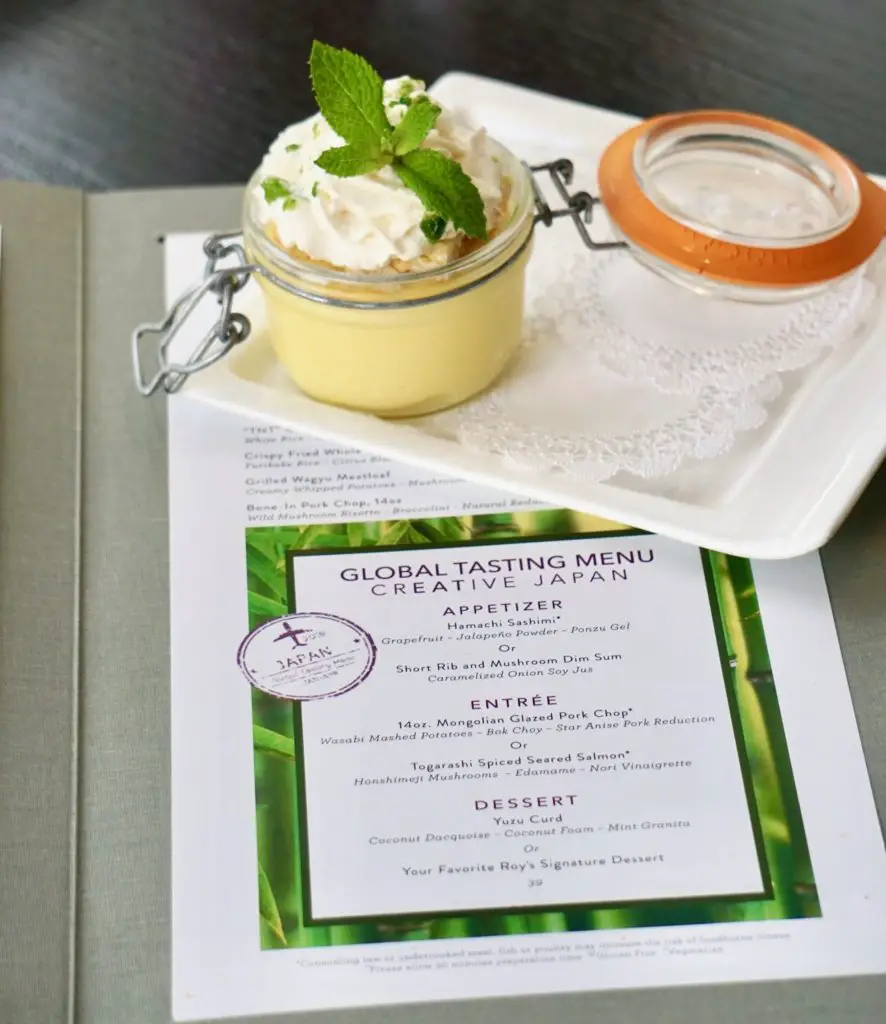 We recently had the opportunity to try Roy's new Global Tasting Menu inspired in the flavors of Japan.Global Tasting Menu inspired in the flavors of Japan. This 3-course prix fixe menu offers a choice of one appetizer, one entree, and one dessert and it's the perfect opportunity to try something new and different and it's a great option for a date night or for celebrating a special occasion.
This Global Tasting Menu is influenced by Roy's Japanese heritage. In the restaurant's unmistakable fusion style Japanese flavors and ingredients are creatively and playfully combined to provide a bold and exciting dining experience.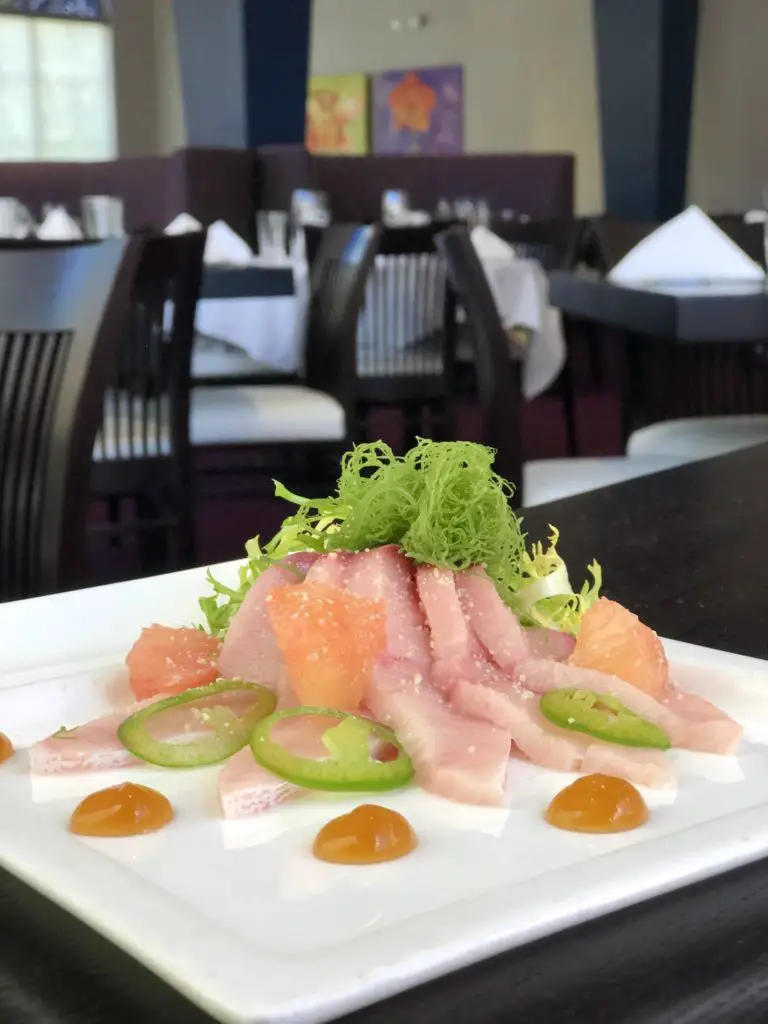 Start with a choice of Hamachi sashimi with greapefruit, jalapeño, and ponzu gel or short rib and mushroom dim sum served over warm caramelized onion soy jus. Ths shashimi was fresh and the combination of the sweet tanginess of the grapefruit with the jalapeño really complimented the subtle flavor of the fish.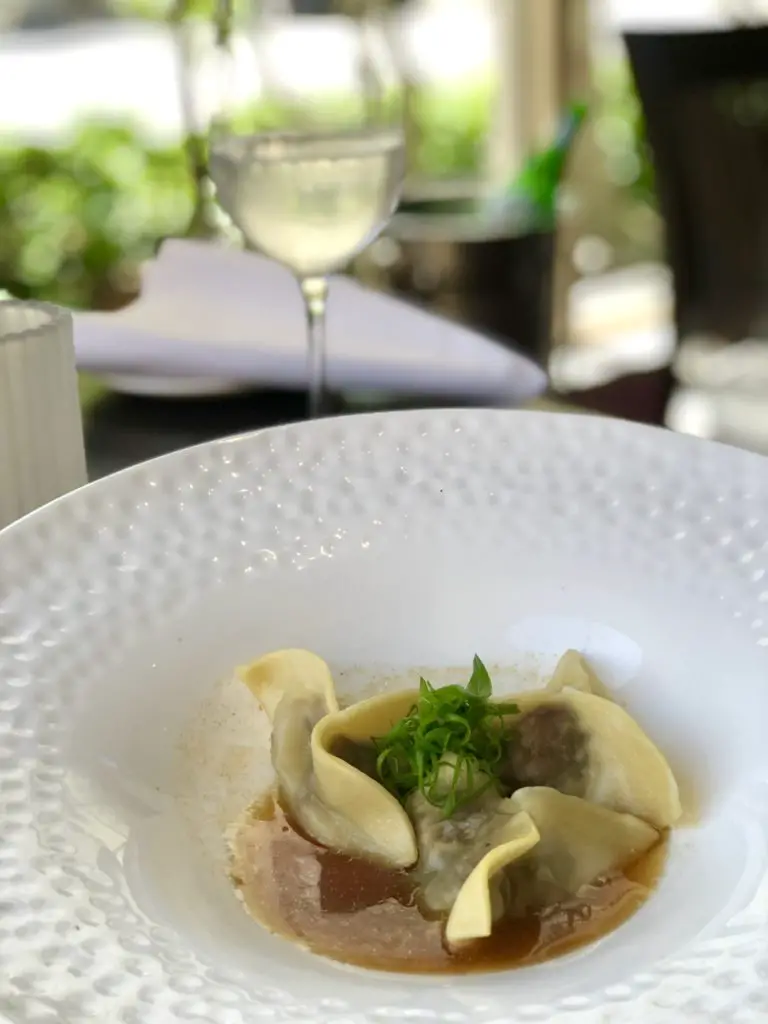 The entree offers a selection of either a 14oz Mongolian glazed porkchop or Togarashi spiced seared salmon. The salmon was fresh and cooked to perfection served over a bed of greens which contained a delicious blend of Honshimeji mushrooms and edamame in a Nori vinaigrette.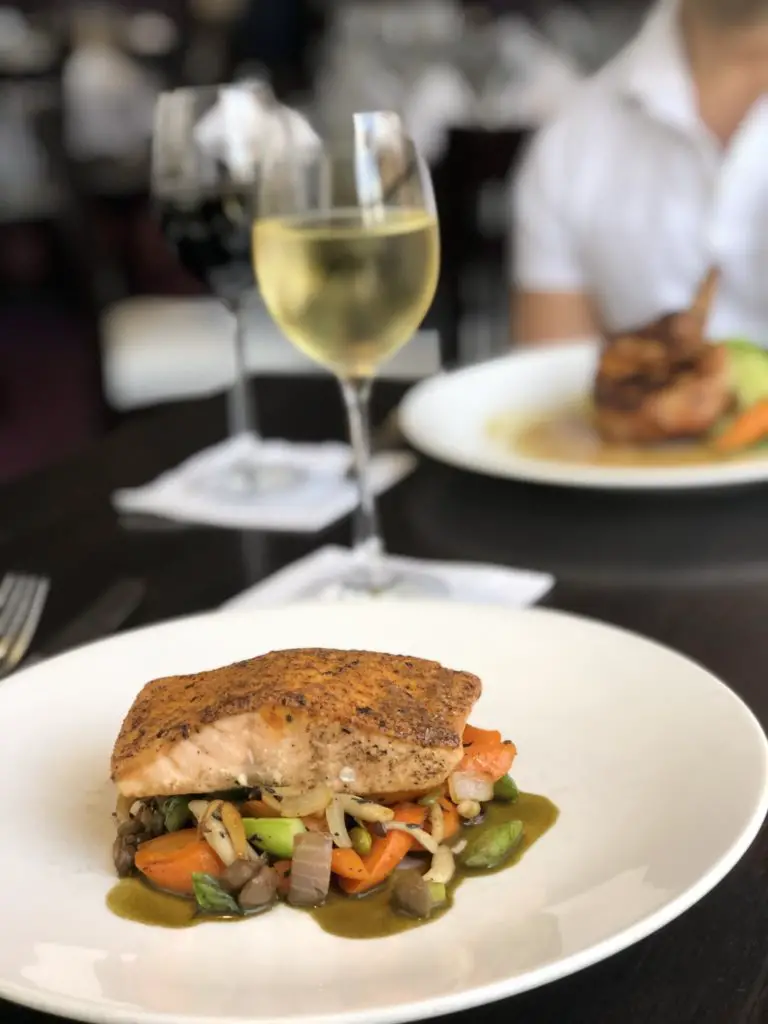 The pork chops were juicy and soft with a star anise pork reduction that had an aromatic yet subtle taste that really complimented the meat. Served over a bed of wasabi mashed potatoes that were to die for, the flavor of the wasabi really enhanced with just a subtle touch of heat that did not overpower any of the flavors.
For dessert, you can choose the Yuzu Curd or any one of Roy's signature desserts. I had the Yuzu curd which was served with coconut dacquoise and topped with coconut foam and mint granita. It was my first time tasting yuzu, a citrus fruit that tastes a bit like combining the flavors of lime and grapefruit. The taste was definetely different from anything I had ever had before, it was exciting and I loved the tanginess combined with the sweetness and the hint of coconut flavor and mint.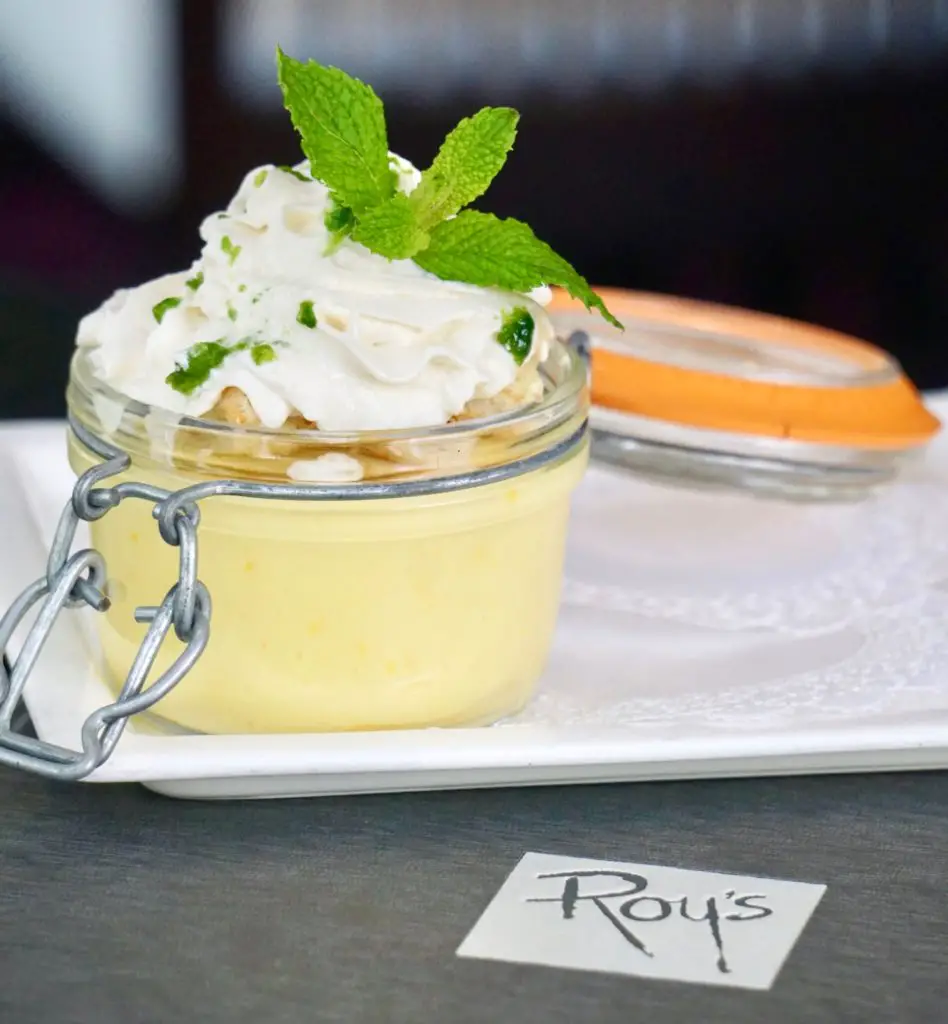 My husband had the pineapple upside down cake which was warm, moist and delicious and is served with a scoop of vanilla ice cream.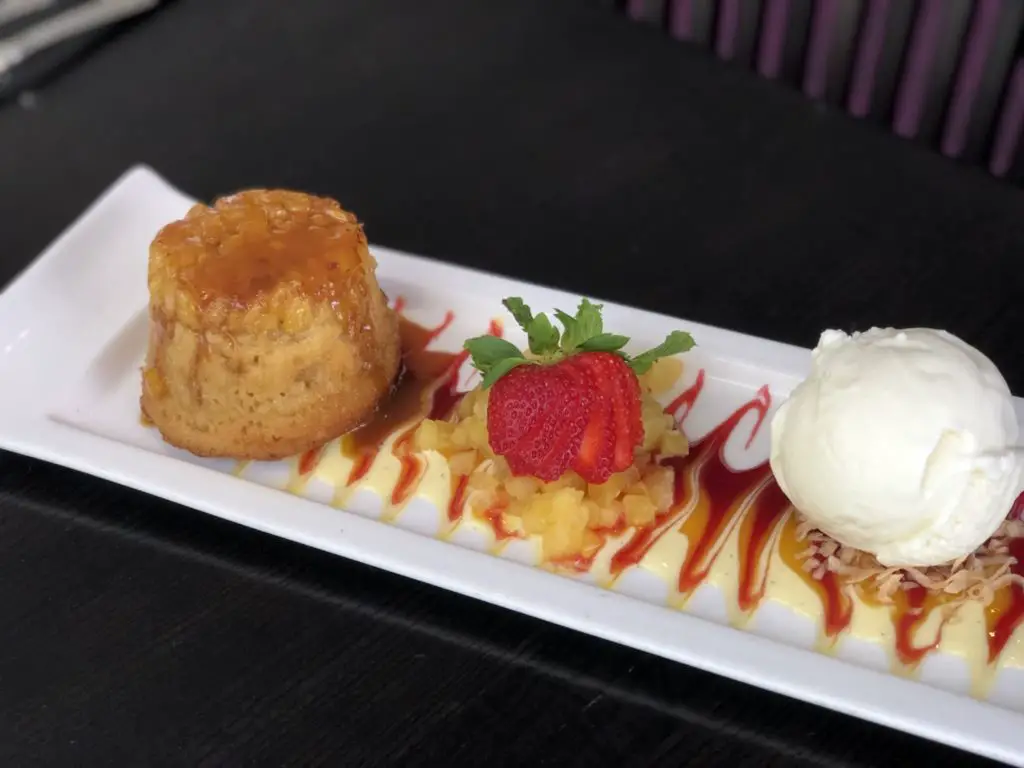 We tried everything on the menu and my personal favorites where the Dim Sum, the Salmon, and the Yuzu Curd but honestly everything was delicious. I loved how every dish had an exciting and adventurous blend of ingredients that all came together in a perfect balance of flavors: no one ingredient overpowered the others.
Every dish was beautifully plated and the meal was an exciting and delicious adventure for our tastebuds. Overall it was a fantastic dining experience and Roy's new Global Tasting Menu provides for the perfect excuse for dining out and is ideal for a date.
The new Japanese inspired Global Tasting Menu at Roy's Bonita Springs is available for a limited time only.  The prix fixe menu, which includes one appetizer, one entrée, and one dessert is $39. We are super excited as this is the first in a series of Global Tasting Menus and we can not wait to see what's next.
Roy's has always been a favorite when it comes to fine dining in Southwest Florida with it's Hawaiian inspired menu, atmosphere, and fantastic cocktails. In addition to the Global Tasting Menu, guests can enjoy a wide variety of dishes that blend classic techniques with Pacific Rim flavors focusing on local ingredients and outstanding seafood dishes. If you haven't been to Roy's Bonita Springs recently you will be pleasantly surprised as they recently celebrated their 20th year anniversary with a full renovation that included a bar expansion. We loved the ambiance and the bright vibrant design of the dining room and really enjoyed their watching the chef work his magic in the signature exhibition kitchen.
Roy's Bonita Springs is located in the heart of the Promenade at 26831 South Bay Drive, # 100, Bonita Springs, FL 34134 . For reservations for the limited-time Global Tasting Menu call (239) 498-7679 or visit roysrestaurant.com.