The premier show of Disney on Ice : Worlds of Fantasy at Germain Arena on Friday, March 8th. proved to be a magical and truly unforgettable experience for our family. This spectacular show is filled with speed, excitement, romance and fantasy as skaters glide gracefully on the ice performing four of your favorite Disney stories: The Little Mermaid, Cars, Tinker Bell and Toy Story.
The show opens with the arrival of Mickey and Minnie along with pals Donald and Goofy who introduce you to the underwater world of Ariel (The Little Mermaid). The fantastic costumes make you feel like you have truly been transported into the depths of the ocean where seahorses and a colorful array of sea creatures set up the stage for the underwater love story of mermaid Ariel the and prince Eric.
A single light shines through a cloud of smoke and as the silhouette of a beat up tow-truck becomes visible the crowd cheers and the children scream joyously. Mater races and twirls on the ice and is soon followed by Sally and all the Cars characters who finally welcome Lightning McQueen. The Car's characters are so real they look like they just drove off the screen. Mater's mouth and eyes move as he talks and you could swear this car is alive.
The skating ring is then transformed into a fairy-land, where Queen Clarion and the other fairies glide on the ice and through the air helping Tinker Bell find her true calling.
All of this happens just in the first half. After a short intermission green army men take the stage by storm and bring the Toy Story adventure to life. As we follow Woody, Buzz and their friends on their adventures to escape Sunnyside Daycare and find a new home there excitement, laughter and music that just makes you get up and groove right along with Barbie and Ken.
Before the show my kids, along with several other families, got the chance to attend a Meet & Greet with some of the characters that would be in the show. We where brought into a room to wait for them, we didn't know what characters we would be meeting and you could feel the excitement and anticipation in the air. When Mickey and Minnie arrived everyone gasped and cheered and my kids where just jumping up and down with joy.
We have attended a couple of Disney on Ice shows before no had no doubt that this would be a wonderful night. I was truly amazed with the beautiful costumes and how each scene transported you into a completely different world creating the mood for the different stories from The Little Mermaid and Tinker Bell to Cars and Toy Story.
The action and excitement did non stop with fairies or green army men coming down from the sky, skaters twirling in the air, cars racing in the ice and the toys trying to escape from the flaming furnace of the dumpster. I watched my children's little faces, eyes filled with awe and amazement and my heart filled with joy. They where so excited they refused to leave their seats during the intermission and every time a new character came into the ring they could not help getting up from their seats to cheer, clap and jump with joy. For a night they felt like they where a part of their favorite Disney stories, they saw their favorite characters come to life and where surrounded by the magic of it all.
As the crown spilled into the parking lot after the show you could see the children dressed in their favorite characters smiling and talking excitedly. On the sidewalk a group of little girls dressed like ballerinas twirled around caught up in the dream and fantasy of the show.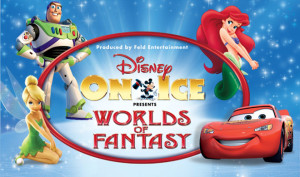 Show Information
Disney on Ice: Worlds of Fantasy will be presented at Germain Arena in Estero March 8th -10th.
Performances : Friday 7:30pm. Saturday11:30am, 3:30pm and 7:30pm. Sunday 1:00pm and 5:00pm.
Ticket Prices: $50 Front Row Floor, $48 2nd Row Floor, $35 VIP, $27 Price Level 5, $16 Price Level 5 & Club.
For more information about the Disney on Ice Worlds of Fantasy show you can visit DisneyOnIce.com, like Disney on Ice on Facebook and follow Disney on Ice on twitter. You can purchase your tickets on Ticketmaster.com.
Special Ticket Price for our Readers
Use coupon code MOMFMY to get special discounted tickets just for Growing Up Bilingual and 365 Things to Do in Southwest Florida readers. Discount: $15 FLAT tickets – valid on ALL SHOWS. Discount is only valid on the $27 and $16 price level seating. Additional Fees may apply.
Get your tickets HERE and remember to use the code MOMFMY to get your discount.
Follow 365 Things to Do In Southwest Florida on Facebook for more great ideas, events and activities for the whole family.
Disclosure: I was provided with 4 free tickets to review the Disney on Ice Worlds of Fantasy Show . However all of the opinions stated here are sincere and are my own.