If you're looking for fresh produce, locally made artisanal products, and a unique shopping experience in SWFL we've got a list of the best farmer's markets in Southwest Florida for you!  Not only does shopping at these local farmer's markets and farm stands support small businesses and farmers, but it also provides a more sustainable and environmentally friendly way of shopping. In Southwest Florida, we are fortunate to have access to a wide variety of farmer's markets and farm stands,  each with its own unique offerings and atmosphere.
To help you find the best of the best, I've compiled a list of the top farmer's markets and farm stands in Southwest Florida from Cape Coral and Fort Myers and Estero to Naples, Bonita Springs and Sanibel Island. I have included the location and website information as well of what days they are open so you can choose which one to visit. So grab your reusable bags and get ready to discover the freshest produce and most unique artisanal products the region has to offer.
Best Farmer's Markets in Southwest Florida
Southwest Florida is known for its warm weather and abundance of fresh produce, making it the perfect place to explore local farmer's markets. With so many options available, it can be tough to decide where to go. That's why we've compiled a list of the best farmer's markets in the region.
Farmer's Markets in Fort Myers
Buckingham Farms
Buckingham Farms is a local farm covering 80 acres It includes a ranch, hydroponic farm, country store, counter service eatery, and event venue. They are dedicated to offering top-quality fresh produce, as well as serving as both a farmer's market and restaurant featuring produce grown on the surrounding acres, as well as from other local farms. In addition to fresh produce, local meats, honeys, Amish goods, wines and other farm made products also available for purchase.
East Fork Creek
If you're looking for farm-fresh produce, you can't go wrong with this family owned and operated aquaponic farm. Their specialty lies in producing artisan lettuce, cucumbers, tomatoes, peppers, and eggplant that are sure to delight your taste buds. In addition, they offer an assortment of tropical fruits such as bananas, mangoes, papaya, lemon, lime, and Starfruit, which are a rare find in most local markets. AYou can also pick up some of their delicious raw honey that's sure to satisfy your sweet tooth. All of their products are grown and harvested with care, ensuring that you get only the best quality produce.
Lakes Park Farmers Market
The Lakes Park Farmer's Market is a vibrant outdoor market that truly captures the essence of local life in Lee County. The market offers a wide variety of goods, including local produce, fresh seafood, native plants, cut flowers, artisan foods, and organics. The market is situated in one of the most beautiful parks in Lee County, making it a perfect spot to enjoy breakfast or lunch at one of the pic Nic tables while listening to live music. The Lakes Park Farmer's Market is a true gem for both locals and visitors alike, offering a delightful and authentic shopping experience surrounded by nature's beauty.
Alliance for the Arts  Night Market
The Alliance of the Arts GreenMarket is a monthly pop-up market that provides an array of delightful experiences for visitors. The market features a diverse range of fresh produce, local artisan crafts, and art that is sure to captivate your senses. Live music is performed by local musicians, and there are also food trucks available offering mouth-watering delicacies, beer, and wine. The market is the perfect opportunity to mix and mingle with your neighbors, and there is even yoga and massages for those looking for relaxation. The market is a treasure trove for foodies and art enthusiasts alike, and it is the ideal place to find fresh veggies, homemade pastries, authentic Mexican food, kombucha, and much more
Farmer's Markets in Cape Coral
Cape Coral Farmers Market
The Cape Coral Farmer's Market can be found in two locations within Cape Coral and boasts over 125 vendors, making it a one-stop-shop for all your fresh, local, and healthy produce needs. The Market's focus on Certified Organic produce is evident as it serves as the cornerstone of the Market's offerings, but you'll also find a wide range of homemade and handmade foods and crafts, including fresh baked breads and pastries, homemade pickles, jams and jellies, Gulf-fresh seafood, fresh meats, homemade pet treats, handcrafted soaps, essential oils, local honey, and made-on-site guacamole. In addition, the Market features fresh-cut flowers, native plants and trees, and a diverse selection of other locally made crafts, products, and foods, making it the perfect destination for anyone looking for high-quality, locally sourced goods.
Downtown Cape Coral Farmer's Market

Location: SE 47th Terrace & SE 10th Place, Cape Coral, FL 33904
Days and hours of operation: year round every Saturday from 8am to 1pm
Website:

capecoralfarmersmarket.com

The Mid-Cape Sunshine Farmer's Market

Location: 125 SW 3rd Place., Cape Coral, FL 33991 at The Mercola Market & Cafe
Days and hours of operation: year long, Tuesdays between 10am-4pm
Website:

capecoralfarmersmarket.com

The Mid-Cape Farmer's Market

Location: 125 SW 3rd Place., Cape Coral, FL 33991
Days and hours of operation: October through April, every Sunday between 10am-2pm.
Website:

capecoralfarmersmarket.com
Tropicaya Fresh Produce
If you're in the mood for fresh and affordable produce, be sure to check out Tropicaya Fresh Produce. In addition to offering a great selection of fruits and veggies, they also sell their own honey, fresh salsa, and homemade jams. And if you're hungry, don't miss out on their delicious Cuban sandwiches – they are definitely a must-try!
Location: 3220 SW Pine Island Road in Cape Coral
Days and hours of operation: year-round Monday to Saturday 9:30 a.m. to 5:30 p.m., Sundays  and 9:30 a.m. to 4 p.m.
Website: Tropicaya Facebook page 
Farmer's Markets in Naples and Marco Island
Vanderbilt Farmer's Market
The Vanderbilt Farmers Market is a year-round pet and family-friendly farmers market located in the Galleria Shoppes at Vanderbilt in North Naples. As the largest and longest-running farmers market in the area, it offers a great mix of vendors and products, including fresh and locally grown produce, flowers, honey, baked goods, specialty foods, artisans, personal care products, home accessories, and much more. The market is committed to promoting sustainable agriculture and supporting local farmers and producers. Visitors can enjoy a fun and interactive shopping experience while supporting the local community and enjoying the freshest and highest quality products available.
Third Street South Market
The Third Street South Farmer's Market is brimming with a diverse range of offerings including fresh produce, flowers, seafood, pastries, baked goods, pasta, jams, relishes, and fresh roasted coffee. In addition, the Market features live music, coffee, dog treats, and other delightful surprises, making it a perfect destination for all members of the family, including adults, children, and even furry friends.
Pine Ridge Road Farmers Market
Located in Naples, the Pine Ridge Road Farmers Market is a year-round market that provides visitors with an extensive range of options, including fresh produce, plants, flowers, gourmet foods and desserts, guacamole, pickles, cheese, honey, jams, clothing, jewelry, soaps and body products, books, crystals, specialty items, and many hand-made and fair-trade products. With such a diverse array of offerings, visitors can enjoy a unique and interactive shopping experience while discovering a wide variety of locally sourced, high-quality goods.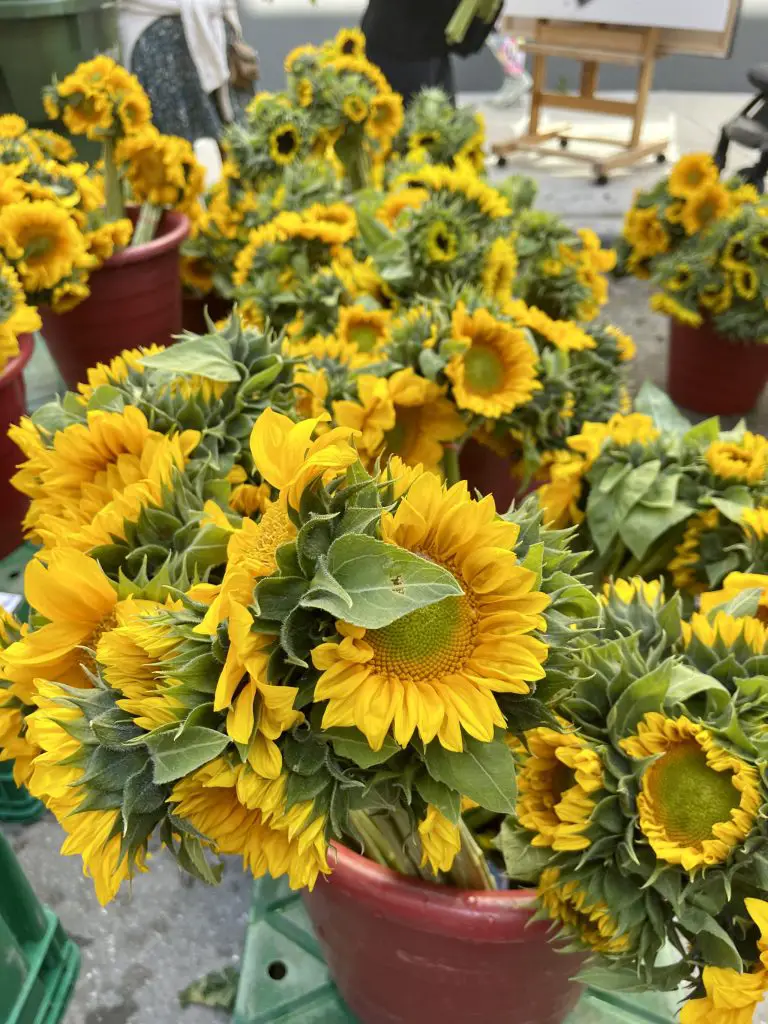 Saint Paul's Farmers Market
I've been a regular at this Farmers Market for quite some time now and I must say, it's really something special. You can find all sorts of fresh produce, beautiful flowers, handmade crafts, and delicious food there. Recently, they even added a Greek Market to the mix. While it's not the biggest selection, they've got all the essentials for a fantastic Greek meal.
Rookery Bay Farmer's Market
The Rookery Bay Farmer's Market takes place at the beautiful Rookery Bay National Estuarine Research Reserve and is set among shady oak trees. The market features live music, locally grown produce, gourmet food stands, and a variety of handmade items by local artists. All proceeds go towards the Friends of Rookery Bay, which supports the Nature Center and its educational exhibits on the local wildlife and vegetation found in the 110 thousand acre SWFL preserve. The Nature Center also features an art gallery, movie theater, and displays on marine life and the ecosystem, making it a great learning destination for visitors.
Marco Island Farmers Market
The Marco Island Farmer's Market is an event not to be missed, offering a vibrant and diverse array of vendors that cater to all tastes and preferences. Visitors can browse through an array of fresh produce, baked goods, shrimp, and an impressive selection of handmade crafts and artworks from local artists and photographers. The market's vegetable stands are especially noteworthy, offering the best selection in the area. Shoppers can also indulge in freshly made food and sample a variety of products such as dips, oils, soaps, cheese, coffee, and more. Whether looking for a unique gift or just enjoying a day out, the Marco Island Farmer's Market is a great place to explore and experience the local community.
Farmer's Markets in Sanibel, Captiva 
When you think of things to do in Sanibel Island you usually think of walking along the shore at Sanibel Lighthouse beach, shelling or visiting the Ding Darling Wildlife Reserve. But if you really want to get to know the community going to the farmer's market in Sanibel is a great idea. This is where the people who live in Sanibel year round or seasonally come together and where you get to meet local vendors and artist.
Sanibel Island Farmers Market
Located on beautiful Sanibel Island, this farmer's market takes place every Sunday from October through May. Here you can find a wide variety of fresh produce, baked goods, and artisanal products from local vendors. With its stunning location and laid-back atmosphere, the Sanibel Island Farmers Market is a must-visit for anyone in the area. It is open on Sundays from 8 a.m. to 1 p.m. through May 30 at . Dogs are not allowed on the property, and parking is available in the lots at Sanibel City Hall, Sanibel Library, BIG Arts, and Schoolhouse Theater.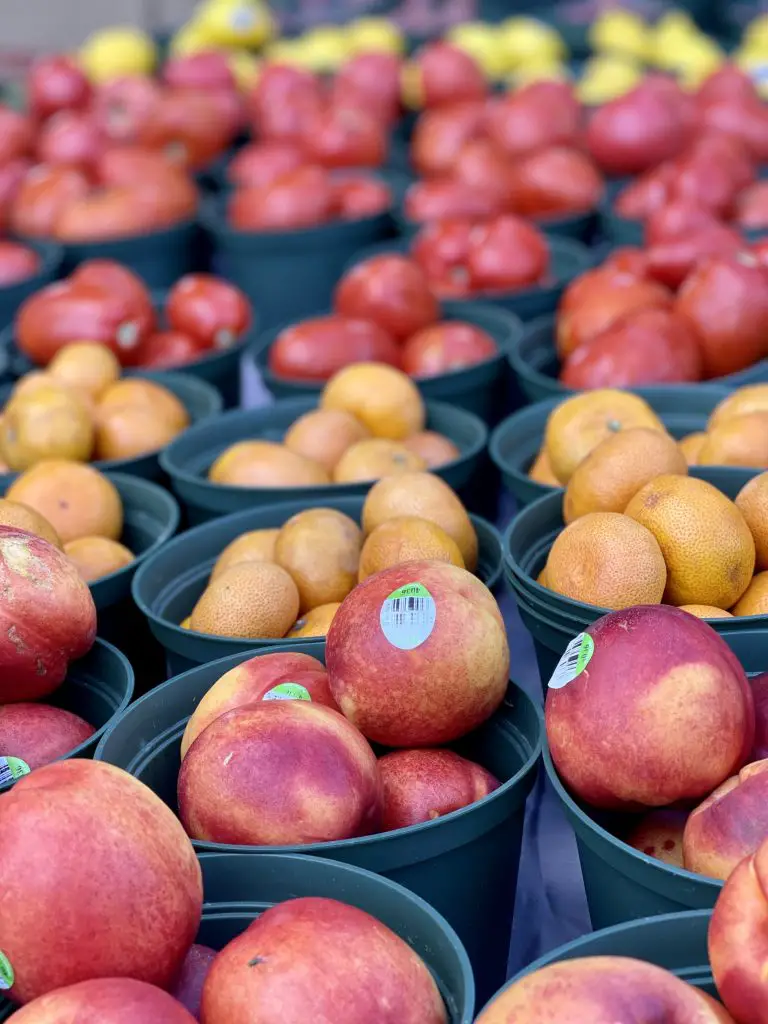 Farmer's Markets in Pine Island
Pine Island Tropicals Fruit Market
Pine Island Tropicals is a family-owned tropical plant nursery and outdoor farmers market located on an island near the Gulf of Mexico in Southwest Florida. They specialize in organically grown plants and vegetables, including Bromeliads, Heliconias, Ginger, Orchids, Sugar Cane, and other specialty items. In addition to their plants, they offer a colorful assortment of tropical flowers, fruits, and homemade jams and breads made with their organic produce. While not all of their produce is available year-round, frequent visits to the market reveal the seasonality of their offerings. The owners continually research and develop different plant cultivars to enhance the variety of products available.
Farmers Markets in Estero 
Miromar Outlets Farmers Market:
This market is open on Fridays from 9 a.m.-1 p.m. in front of Ford's Garage at 10801 Corkscrew Road in Estero. You can find more information on their Facebook page for vendors and updates.
Koreshan Park Farmers Market
Located in Estero, Koreshan Park Farmers Market takes place every Sunday from November through April. This market is known for its fresh produce, local honey, and homemade soaps. Visitors can also explore the historic Koreshan settlement and nature trails in the park while enjoying the market.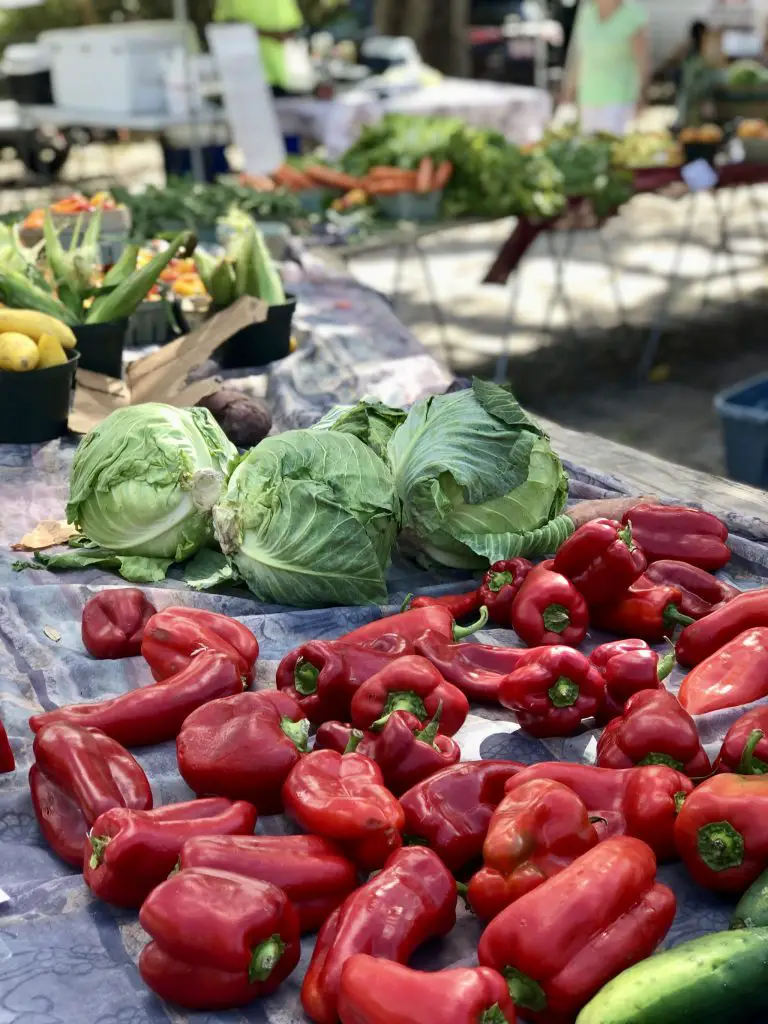 Farmer's Markets in Bonita Springs
From farmer's markets to U-pick farms and organic farm stands there are lots of options to buy local produce and support local businesses and artists in Bonita Springs.
Bonita Springs Farmers Market:
The Bonita Springs Farmer's Market is a delightful way to spend a beautiful Saturday morning. This market offers an outdoor shopping experience that supports local farmers, bakers, and fishmongers. With a variety of products to choose from, including fresh seafood, homemade pickles, artisanal cheeses, and a diverse range of international cuisine such as French, German, Mediterranean, and Italian food. Additionally, the market also offers a selection of fresh produce, flowers, honey, and bread.
Coconut Point Farmers Market:
The Coconut Point Farmer's Market is a must-visit with a wide array of vendors including local farmers, artists, and crafters. The market offers a range of products from fresh produce and pasta to baked goods and honey, and visitors can even find pure Vermont maple syrup. Additionally, the market features health booths, food stalls, tea, and drink vendors. The location of the market is ideal, allowing visitors to continue their day out by heading over to the movie theater or mall for some additional shopping. With so much to choose from including lovely artisanal products like pottery and French and German baked goods, the Bonita Springs Farmer's Market is a great destination for foodies and shoppers alike.
Farmer Mike's U-Pick:
Farmer Mike's U Pick is a charming family-owned farm located in the heart of Southwest Florida. Specializing in growing fresh Heirloom Tomatoes, Heirloom Peppers, Strawberries, Microgreens, and an array of other vegetables and fruits, this farm is committed to providing high-quality produce for the local community. Visitors to the farm can enjoy a unique experience by picking their own strawberries, tomatoes, and flowers such as dahlias, snapdragons, sunflowers, and lisianthus. The opportunity to pick your own produce is not only a fun activity, but it also ensures that you are getting the freshest possible products. Farmer Mike's U Pick is a great destination for those looking for a fun and educational experience while supporting local agriculture.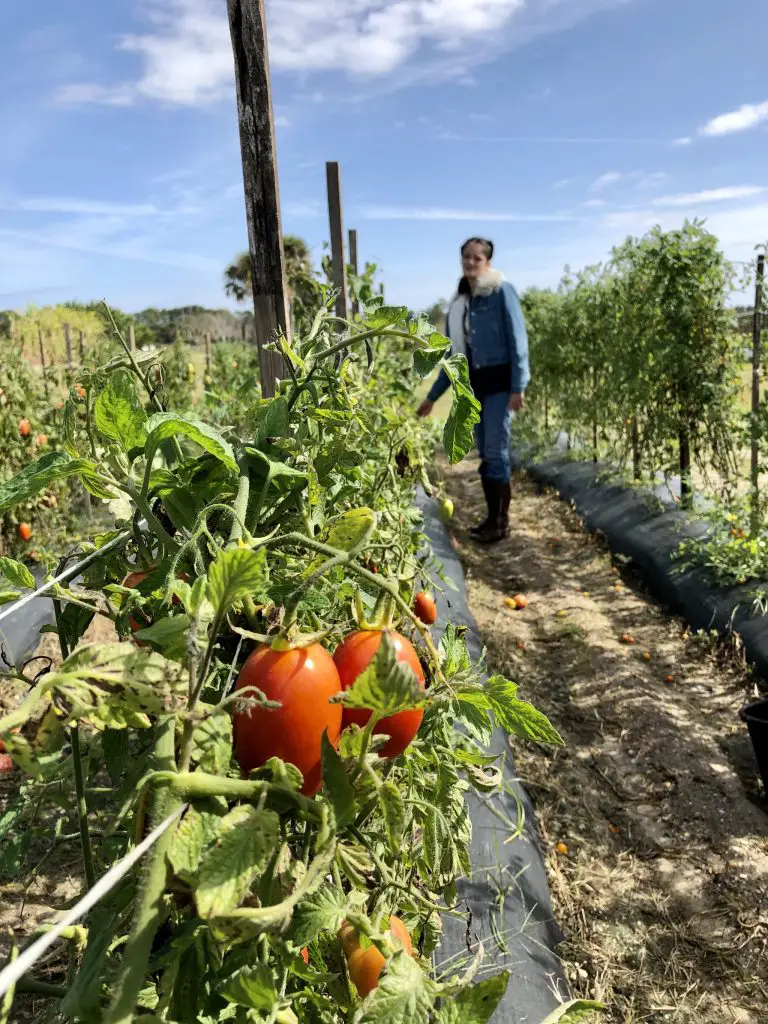 Organic Garden Market at Shangri-La Springs:
Shangri La Springs, located in Southwest Florida, hosts a fresh market every Thursday that is a must-visit for foodies and health enthusiasts. The market offers a range of fresh seasonal vegetables including tomatoes, eggplant, kale, carrots, onions, collard greens, and peppers, which are all sourced locally. In addition to these staples, visitors can also find organic loofah from the on-site organic garden, adding a unique twist to the offerings. After shopping for organic produce you can have lunch at their organic farm to table restaurant.
Whether you're a local or a visitor to Southwest Florida, these farmer's markets are a great way to experience the region's fresh produce and local culture. From Sanibel Island to Estero, each market offers its own unique atmosphere and variety of vendors. So grab your reusable shopping bags and head to one of these farmer's markets for a taste of the best Southwest Florida has to offer.
Other articles about things to do in Southwest Florida
The Best Dog Friendly Beaches in Southwest Florida
The beaches of southwest Florida are some of the most beautiful in the country. But if you're traveling with pets, you may be wondering where you and your dog can enjoy the beach together.  If you're searching for a good place to enjoy the surf with your dog, check out one of our picks for the best dog-friendly beaches in Southwest Florida.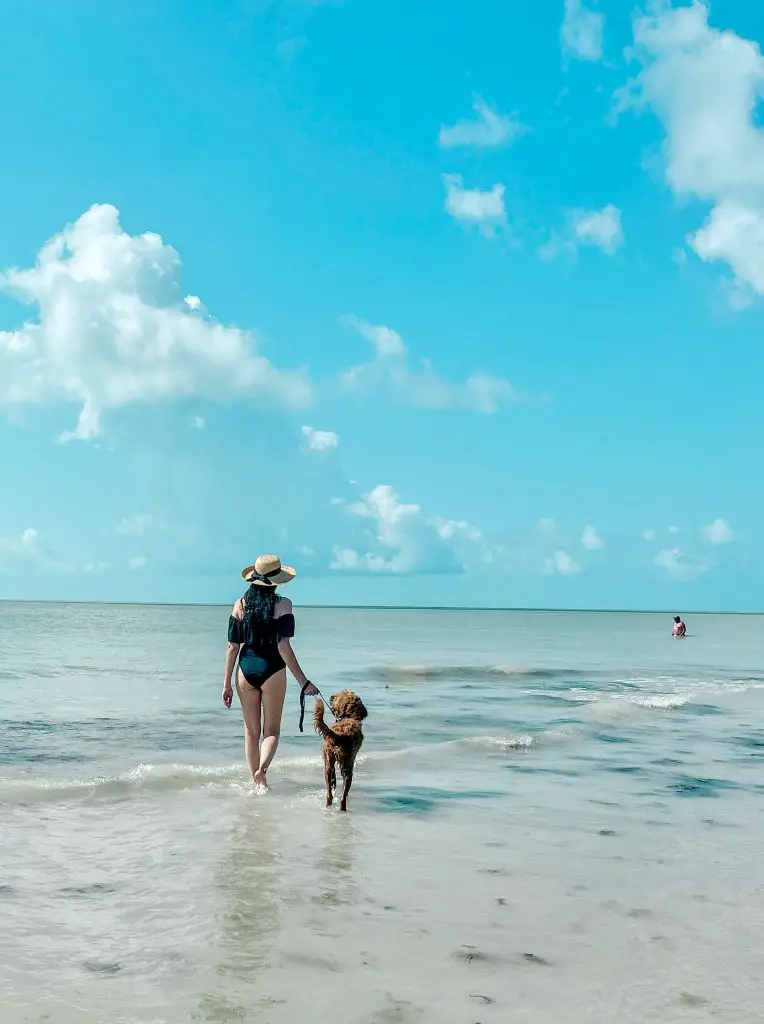 Southwest Florida is home to so many wonderful nature preserves full of interesting plant life and animals. While these parks offer may a variety of learning experiences for kids, hiking as a family can often be tricky. That's why I've outlined the best nature hikes for families in the area. Each of these hikes are simple treks that offer tons of opportunities for an easy interaction with nature in Cape Coral, Fort Myers and Naples.

Follow us on Facebook and on Instagram at @365SWFL for more things to do in Southwest Florida and to check out Southwest Florida events and restaurant recommendations!