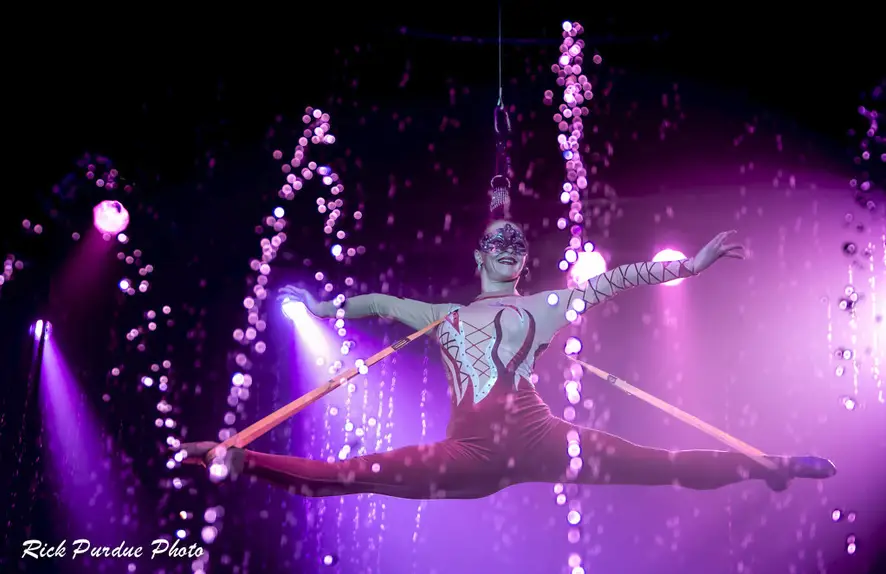 My kids love acrobats and when we heard that Cirque Italia is coming to Cape Coral they where thrilled. Cirque Italia is like no other circus you have seen before featuring a 35,000 gallon water stage where artists and acrobats from all over the world will amaze you with awe inspiring performances.  I love that their show is completely animal-free and focuses only on the stunningly beautiful acrobatic performances!
Get ready for an experience that will take you far, far away to the wonders of Italy and the magic of an immersion into its culture. And into water! During the show, you won't believe your eyes when the lid lifts up to 35 feet in the air while a CURTAIN OF RAIN AND FOUNTAINS DANCE WITH EACH PERFORMANCE MOVE!
We love learning about other cultures and with Cirque Italia you'll feel like you've been transported to Italy! Authentic Italian tradition and origins is what characterizes this circus, starting from founder and inspirator, Manuel Rebecchi. As the nephew of Moira Orfei, the owner and soul of the most famous circus in Italy, Manuel can truly say that the circus runs in his blood. He knows this industry and world like no other! His passion, knowledge and entrepreneurial spirit have all combined to make of this show an experience to remember for a lifetime. "I want to see people have fun, enjoy the show, and go out with a smile and the desire to come back!" says Manuel.
The Cirque Italia show features MUSICAL CLOWNS displaying a wide variety of musical slapstick and side-splitting comedy. During the VERTICALI ACT an artist sings Andrea Bocelli while performing upside down.  Will be hypnotized with the LASERMAN ACT as you watch the laws of physics crumble when the performer actually "holds" a beam of light in his hand, splits it into two, then bends it and wields it like a saber of light.   One the children's favorite acts is the spectacular MERMAID, who emerges from her shell and swims through the fountains.
[important]Cirque Italia offers a free child admission with each full-priced adult admission in levels 2-3![/important]
When: February 27- March 8th
Where: 917 NE Pine Island Rd. Cape Coral, FL 33909 (Northeast corner of Pine Island Rd. and Andalusia). Under the grand, swirling White and Blue tent!
Show Schedule: 
February 27 FRI: 7:30pm
February 28 SAT: 1:30pm, 4:30pm, 7:30pm
March 1 SUN: 2:30pm, 6:30pm
March 6th FRI: 7:30pm
March 7th SAT: 1:30pm, 4:30pm, 7:30pm
March 8th SUN: 2:30pm, 6:30pm
Box office hours:
The box office opens on-site on Tuesday, the week of the show.
Non-show days: Tues-Sun: 10am – 6pm
On show days open 10am – 9pm
For more information, check out the Cirque Italia website: www.cirqueitalia.com and find them and follow them on Facebook, Twitter and Instagram to keep up to date with their latest news!
You can purchase tickets through the CirqueItalia.com website or by phone: (941) 704-8572.
Win a Pack of 4 Tickets To Cirque Italia in Cape Coral
Win a 4 pack of tickets to Cirque Italia in Cape Coral on February 23rd to March 1st, 2015. Giveaway open to US residents 18 and older. Giveaway ends on February 25th at 11:59pm.
*Does not include travel or transportation to event.
Enter the giveaway by following the instructions on the Rafflecopter below. ENTRIES WILL BE VERIFIED.
Follow 365 Things to Do In Southwest Florida on Facebook for more great ideas, events and activities for the whole family.