We visited the Florida Keys two years ago and although the drive across the overseas highway is truly beautiful this time around we where looking for a more convenient and quicker way to get there and boy did we find it!  We boarded the Key West express from Fort Myers Beach and in less than four hours we where docking in Key West.
The Key West Express Ferry sails from Ft. Myers Beach year round and  from Marco Island seasonally and it is without a doubt the fastest, most convenient and most fun way to get to Key West! The modern, air-conditioned high-speed ferries feature sundecks, snack bar, cocktails and big-screen TVs. You can choose to sit indoors or outdoors and enjoy beautiful ocean views all the way to your destination.
What We Loved About the Key West Express
The trip was quick and convenient. You don't have to worry about driving, accidents on the road, getting speeding tickets, inching along on 35 mile an hour zones or being on the lookout for Key deer and Key West chicken jumping in front of you on the road.
The Key West Express conveniently leaves from Fort Myers beach year around and there are also trips from Marco Island during season.
The staff was very helpful and answered questions and made recommendations about where to go and what to see in Key West. Everyone from the people who welcomed us onto the boat to the bartender was extremely friendly.
You can drink on your way there. I am not one to enjoy a drink at 8:30am but there where a lot of people washing their breakfast down with a Bloody Mary, it sure made for a fun trip. 😉
On your way back you will get to enjoy watching the sun setting on the turquoise waters of the Gulf of Mexico.
You get to enjoy beautiful view of the ocean and if you are lucky maybe you'll even get to see dolphins.
You can relax and watch a movie during the trip.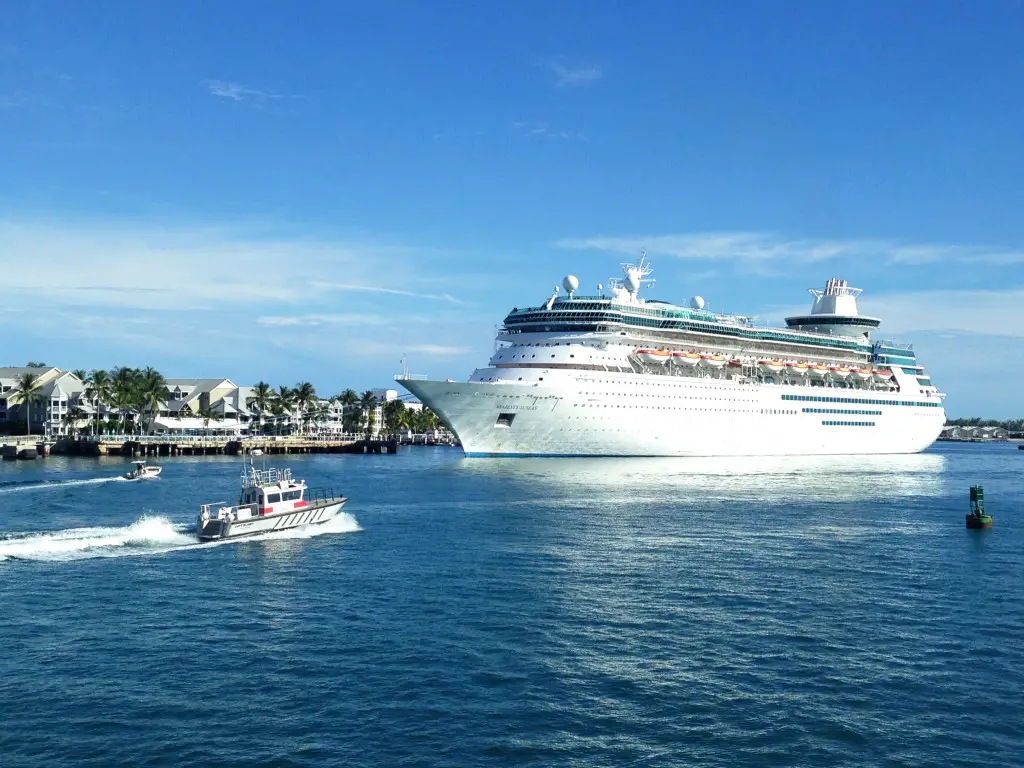 Things To Consider
Take into account the trip is about 3 and half hours each way, some people stay in Key West just for the day but we think a few hours is not enough to enjoy everything the Conch Republic has to offer so consider staying overnight.
If the seas are rough there is always the danger of motion sickness.  I usually get seasick pretty easily but the ferry was so fast that event though the sea was not completely calm there was not much bobbing around.  The snack bar has lots of Dramamine available so take one as soon as you get on the boat just as a preventive measure.
During summer the service is not available every day so make sure to check the Key West Express schedule and calendar and plan your trip accordingly.
Outdoor parking in Fort Myers Beach is $8 per day, not bad really but if you are staying for a week like us take a cab or get someone to drop you off.
Taking the Key West Express instead of driving was the perfect way to start and end our romantic Key West getaway.  We arrived at Key West relaxed and in great spirits, ready to enjoy all the sights instead of being tired and stressed after a 6 hour drive.  After almost a week in Key West it was great to just get on the boat and be sail off into the sunset.  After watching the sun sink into the Gulf waters (talk about romantic) my husband and I enjoyed watching a movie together and arrived back home around 9:30pm.
Visit the Key West Express website for more information, like their Facebook page and follow them on twitter  to stay up to date with their latest news and specials.
This is part of a series of articles: Romantic Key West Getaway, you can read more articles in the series HERE. #KeyWestGetaway
Follow 365 Things to Do In Southwest Florida on Facebook for the best travel ideas, events and attractions for the whole family.