I was provided with press tickets to attend the Monster X Tour at Germain Arena.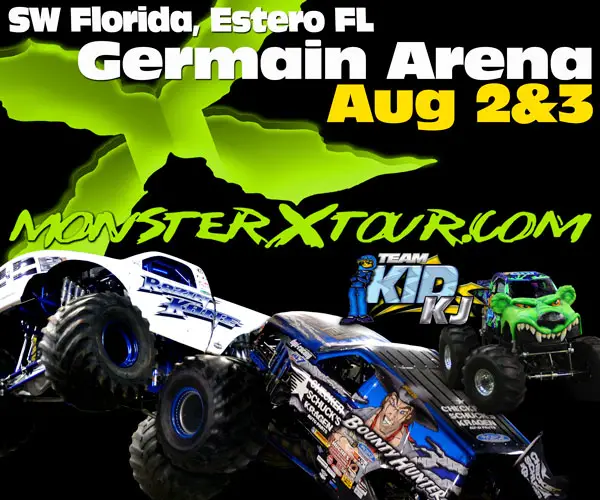 The nation's most competitive Monster Trucks will invade Germain Arena, in Estero FL on August 2nd and 3rd. See these incredible 10,000 pound, car crushing giants compete in racing, wheelie contests, and then rock the house with amazing freestyle action during the Monster X Tour! Plus, you can meet the drivers and see the trucks up close at the pre-event Autograph Pit Party!
Who Will Be There
• BOUTNY HUNTER…He's out to get the competition!
• IRON OUTLAW…He's not afraid to break the rules!
• RAZIN KANE… Taking on all challengers!
• ICE CREAM MAN…One high flyin treat!
• GUNSLINGER… He's cocked, locked, and ready to rock!
There Is No End To The Monster Truck Excitement
PIT PARTY & DRIVER AUTOGRAPH SESSION…Come early, meet the drivers, get autographs and take photos of the drivers and their Monsters.
KID KJ AND CREW…As seen on ABC's 20/20 and Nickelodeon, Kid KJ with the crew! 9 year old KJ in Monster Bear, 8 year old Jake in Sir Crush-a-Lot and 16 year old Macey in Demolition Diva, PLUS Chris Dixon in Lil' Bully!
MUD BOGS…Watch as these 4×4 Mud maniacs compete in intense mud slingin' action!
QUAD WARS…Watch as these hard core off-roaders go head to head to find the toughest
RIDE A TRUCK…That's right! Get the ride of your life on-board a real Monster Truck during the Pit Party and Intermission!
Show Information
Friday, August 2nd……………..7:30 pm (Pit Party 6:00 –7:00 pm)
Saturday, August 3rd, 2013………….7:30 pm (Pit Party 6:00 –7:00 pm)
Tickets start at $17.40. Children under 3 years old are free. You can get your tickets at www.germainarena.com or on Ticketmaster. Click HERE to get your tickets now. Fees may be applied .Tickets are subject to a service charge.
Pit party passes must be purchased separately and must be accompanied by an event ticket.
GIVEAWAY – 2 WINNERS!
Win a 4 pack of tickets to Monster X Tour at Germain Arena plus Pit Party passed* for Friday, August 2nd. 2 WINNERS!! Giveaway open to US residents 18 and older.
*Does not include travel or transportation to event.
Enter the giveaway by following the instructions on the Rafflecopter below.
You can learn more about the Monster X Tour by visiting www.MonsterXTour.com and like Monster X Tour on Facebook to stay updated on all their exciting news.
Follow 365 Things to Do In Southwest Florida on Facebook for the best travel ideas, events and attractions for the whole family.