We had the opportunity to visit  Disney's Hollywood Studios' "Star Wars Weekends".  This is the first time we have visited the park during this galactic celebration and we where truly amaze by it.  The Star Wars Weekends at Disney Hollywood Studios feature largest gathering of official "Star Wars" characters and probably Star Wars Fans as well.  This year's event takes place every Friday, Saturday and Sunday from May 15th-June 14th, 2015.
Everywhere you look there are characters and visitors channeling their inner force, wearing fun themed hats or flu consumes from Ewoks to Wookies. Even Mickey, Minnie, Donald and Goofy get into the fun, dressing like their favorite "Star Wars" characters: Mickey as a Jedi Knight, Minnie as Princess Leia, Donald as a Storm Trooper and Goofy as Darth Vader himself.
As soon as we arrived we quickly signed the kids up for the Jedi Academy.  Make sure to get to the park early and sign up as soon as you can because the space is very limited and it fills up quickly. We arrived at around 10am and got one of the last spots for the 7:00pm show.
We spent the morning seeing some of Disney Hollywoods Studios shows, among them Star Tours – The Adventure Continues a 3D, motion-simulated space flight that launches you into the world of Star Wars.  The ride in itself makes you feel like you are really taking an intergalactic flight and the because there are 50 different story combinations you never know where this adventure will lead or what Star Wars characters you might encounter.
Then we headed to Hollywood Bouleveard to delight in the Star Wars parade which featured a combinations of Star Wars hero's and villains from Wookies and Ewoks to Storm Troopers, Bounty Hunters and Jedi Knights.  Of course the Disney Characters also participated on the parade along with celebrities who have been part of the Star Wars saga or are the voices for the Star Wars Clone Wars series.
Also a highlight: the "Legends of the Force" parade, which features a cavalcade of Star Wars characters, Disney characters and more parading down Hollywood Blvd.
After the parade we had lunch. We where celebrating my daughter's 9th birthday and we sang happy birthday to her as she blew up the candles on a Darth Vader chocolate peanut butter cupcake!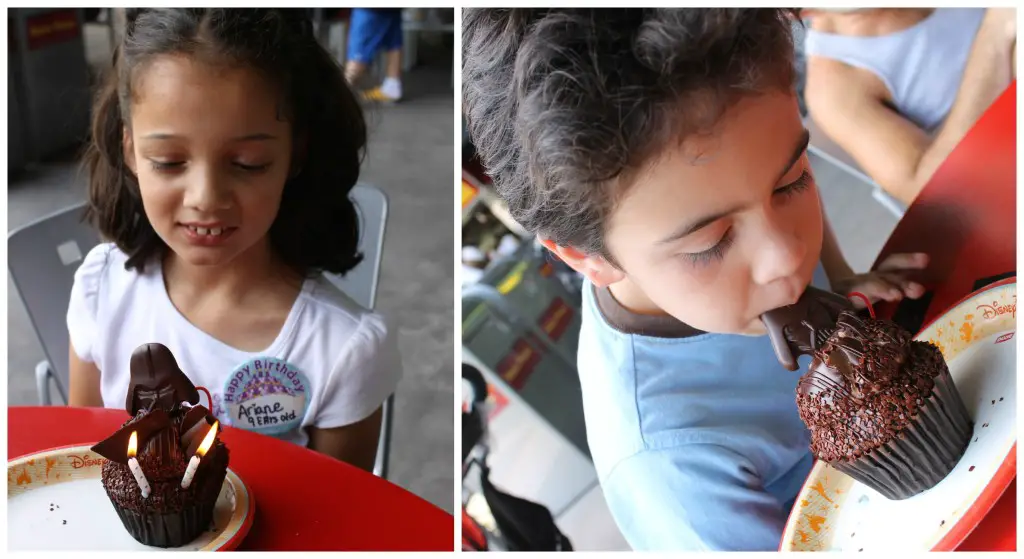 Star Wars Weekends Darth Vader Cupcakes
My daughter wanted to meet the Disney Characters so we headed to Darth's Mall where you can take pictures with either Jedi Mickey and Leia Minnie or Donald Storm Trooper and Goofy Vader. We where lucky that right after we took the pictures with Mickey and Minnie they left and where replaced by Donald and Goofy so we made the line again and where able to take pictures with all of them. My daughter was thrilled!
At Darth Mall my daughter used the money she got from grandma and her greataunt to purchase limited-edition and event-exclusive items.  Both of my children got new light sabers and we all had fun trying on different Star Wars hats and costumes.
We have watched the Star Wars movies as a family and we can't wait for the next one. Going to Disney Hollywood Studios, which is already one of our favorite parks and getting to meet the Star Wars characters, some of the actors and immerse ourselves in the intergalactic excitement and adventure that surrounded us throughout the park was a truly memorable family experience.
Overall it was an awesome day but if I had to pick a favorite thing about it I would say that the best experience during our day at Star Wars Weekend at Disney Hollywood Studios was having both kids participate in the Jedi Training Academy.  Both of my children where so incredibly excited about fighting agains the dark forces and getting to engage in a light saber battle with Darth Vader himself.
Being up on that stage you could just see how all of the children transformed into brave fighters.  The Master Jedi in charge of the training was awesome, he was so much fun and made the the kids feel like they where really in charge of the battle.  The whole experience was exciting for children and parents alike and it made for some pretty spectacular memories, and dare I say it some pretty awesome photos too as they kids fought up on the stage withe the huge Imperial Walker on the background.
Most Star Wars Weekends activities are included in regular admission to Disney's Hollywood Studios.  For more information you can visit DisneyTheForce.com, DisneyParksBlog.com and StarWars.com.  Join the conversation online and share your favorite moments using the hashtag #DisneyTheForce.
Follow 365 Things to Do In Southwest Florida on Facebook for the best travel ideas, events and attractions for the whole family.