If you're looking for the best beaches in Cape Coral, Florida you have come to the right place. If you're looking for things to do in Cape Coral, hitting the beach is surely at the top of your list. Home to breathtaking natural beauty and fantastic weather year-round, Cape Coral is located really close to some of the best beaches in Southwest Florida. Cape Coral is a boater's paradise with over 400 miles of canals. And although there are not lots of beaches in Cape Coral I have included, along with the best Cape Coral beaches, other amazing Southwest Florida beaches that are  just a short drive away!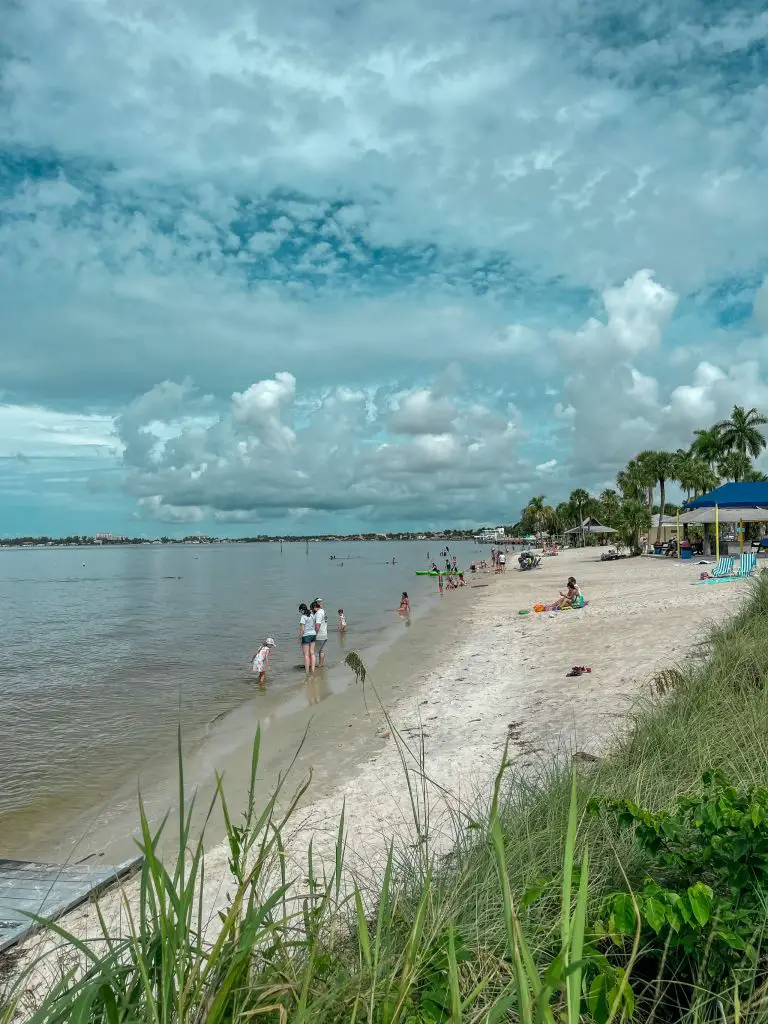 Spend a Day at a Beautiful Beach in Cape Coral
Southwest Florida is a popular vacation destination with its gorgeous coastlines and waterways and some of the most beautiful beaches along the Gulf of Mexico. And nested in Southwest Florida is Cape Coral, a friendly community that I am lucky to call home.
One of the best parts of living in Cape Coral is the easy access to water. The city is full of gorgeous waterfront spots perfect for boating, fishing, and kayaking. It has all the beauty you expect from Southwest Florida, but with a small-town feel that will enchant you as much as it has me!
On any sunny day, I grab my kids and pup (depending on whether we're heading to adog-friendly beach) and head to the beach. We usually make a day out of it with a picnic basket full of goodies or head there after school to watch the sunset. So, grab a towel, bring your sunglasses, and check out the best beaches in Cape Coral and the best beaches near Cape Coral too! 
Located on the Caloosahatchee River, the Yacht Club Community Park has a beautiful beach  perfect for fishing, a family picnic, swimming, and relaxing under the sun. Even though the beach is small, it has powder soft white sand with gentle to no waves.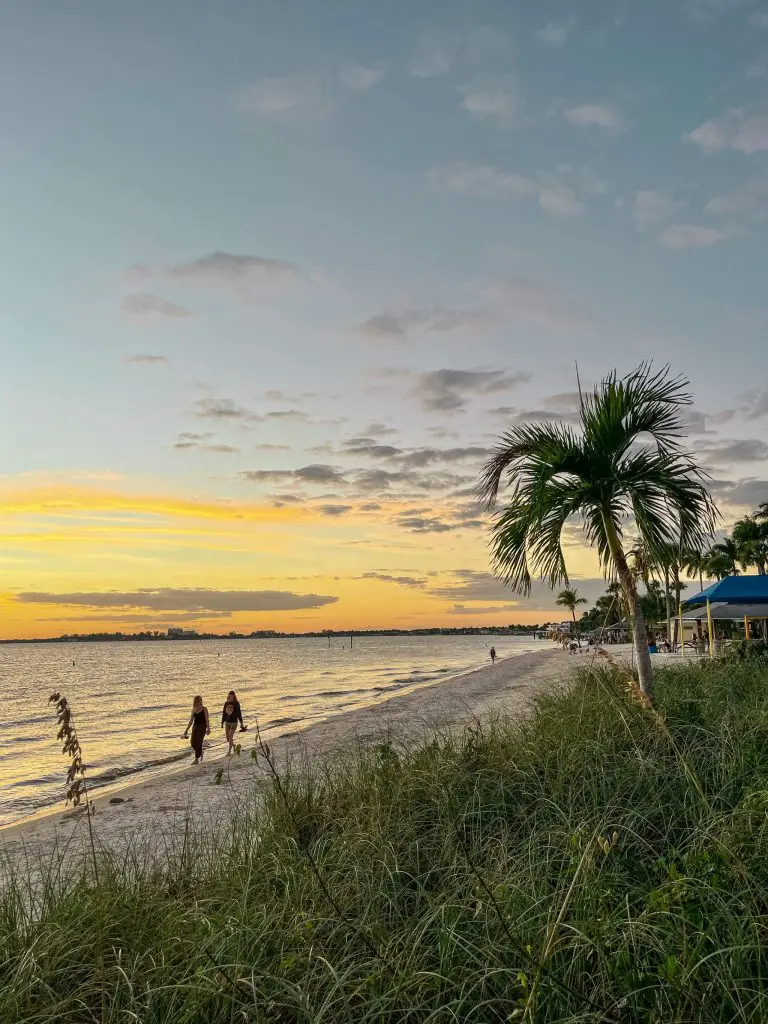 The park also encompasses a marina, a community pool, boat ramps, and a beachfront restaurant. The playground area is located right on the beach and there is a fishing pier that provides great views of the river. Since this Cape Coral beach is just minutes from our house we love to head there to watch the sunset. There is also a sunset celebration right on the beach on the first Wednesday of the month from October to March with food trucks, vendors and live music right on the beach.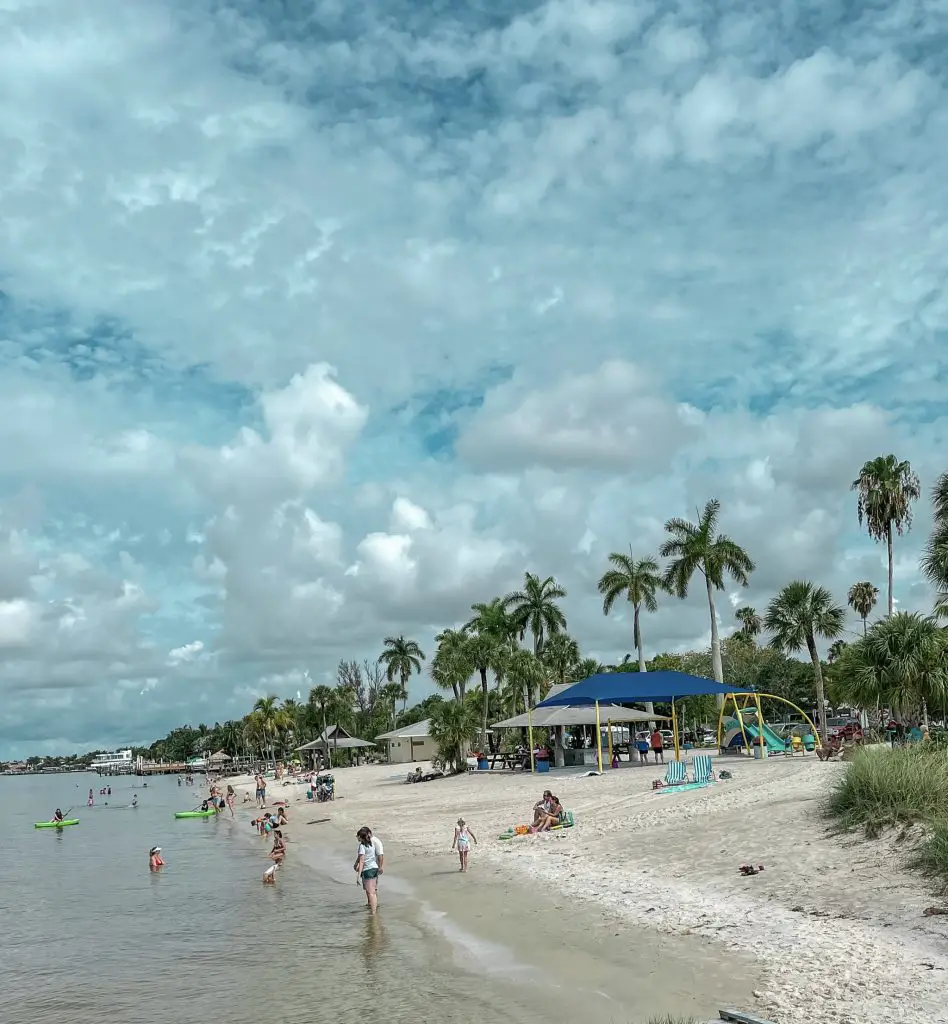 If you need to relax with a beautiful view, then a stop at Four Freedoms Park is a must! This man-made beach rests on 3.2 acres overlooking the stunning Bimini Basin, with a fantastic fenced-in playground for the little ones and plenty of shade and picnic tables to enjoy the scenic views.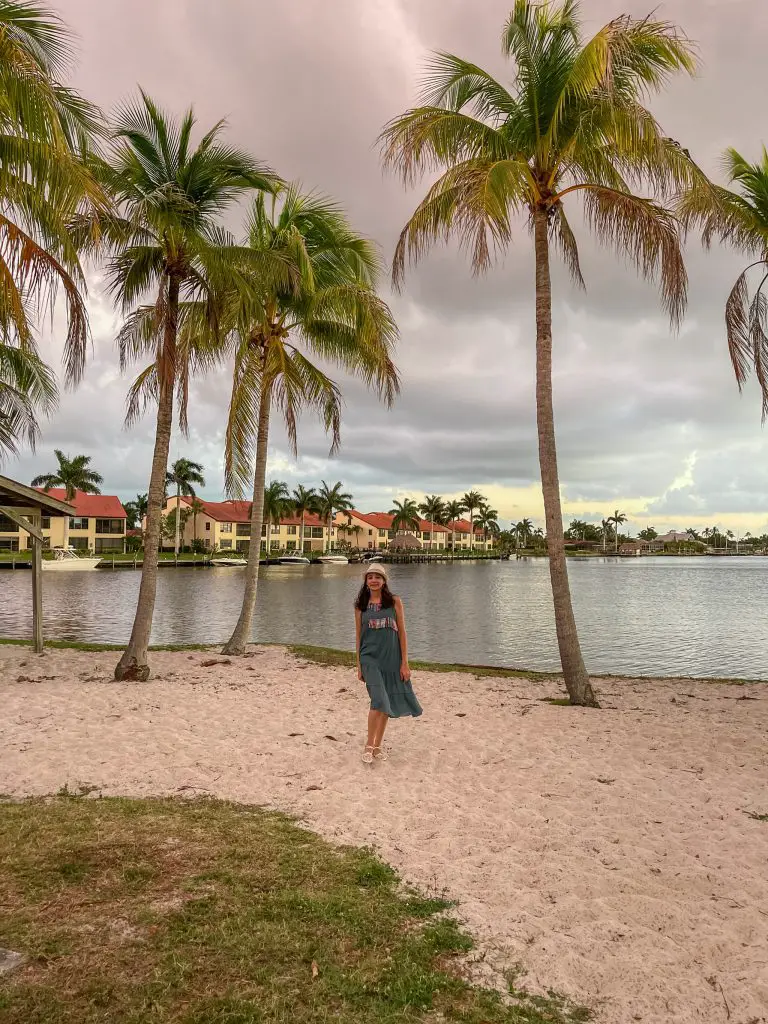 Surrounded by a beautiful residential neighborhood, Four Freedoms Park has a brand-new, white, sandy beach perfect for sunbathing. Just be aware that you can't go in the water at Bimini Basin; this is a tanning-only beach. Along the water bank is a walkway ideal for fishing or taking a romantic stroll at sundown. And if you have a furry friend, bring him along! The park is one of the few that allow dogs at the beach (just not inside the playground area).
Best Beaches Near Cape Coral
Cape Coral not only has stunning waterways crossing the entire city, but it is also extremely close to the best beaches in Southwest Florida. I have included a list of the best beaches near Cape Coral. So whether you're planning a relaxing day under the sun or an action-packed adventure on the water, these beautiful beaches are just a short drive away from Cape Coral. 
All of the beaches listed here are between 10 to 20 miles from downtown Cape Coral. So, pack your beach bag and slather on sunscreen for a fun day at the beach at one of these fantastic Southwest Florida beaches! 
And if you are looking for more great beaches near Cape Coral, check out my post about the best beaches in Southwest Florida. It includes the best beaches in Fort Myers Beach, Sanibel, Estero, Bonita Springs, and Naples. 
Bunche Beach
Bunche Beach is not only the closest beach to Cape Coral, but it's also one of our favorite sandy spots. I love that this beach is in a natural preserve, so there are no houses or hotels. Lush nature surrounds the entire beach, and it's an excellent spot for bird watching and relaxing with a book away from the crowds.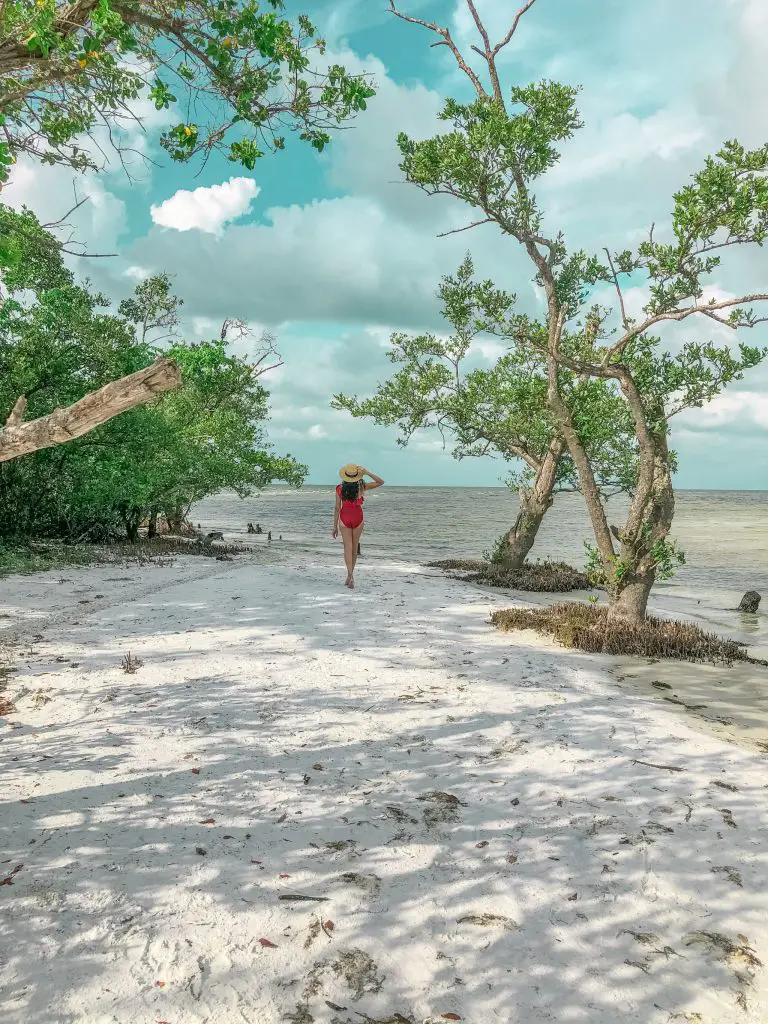 This is a quiet, uncrowded beach where my kids can play freely in shallow sand flats. Bunche Beach also has kayaks and paddleboards available for rent. In addition, the beach has beautiful mangrove tunnels and where you can paddle your way through spectacular views.
Sanibel Lighthouse Beach
Snuggled on the southern tip of Sanibel Island, the Sanibel Lighthouse Beach Park is a beautiful place to visit while in Southwest Florida. You can enjoy breathtaking views as the beach wraps around San Carlos Bay and the Gulf of Mexico.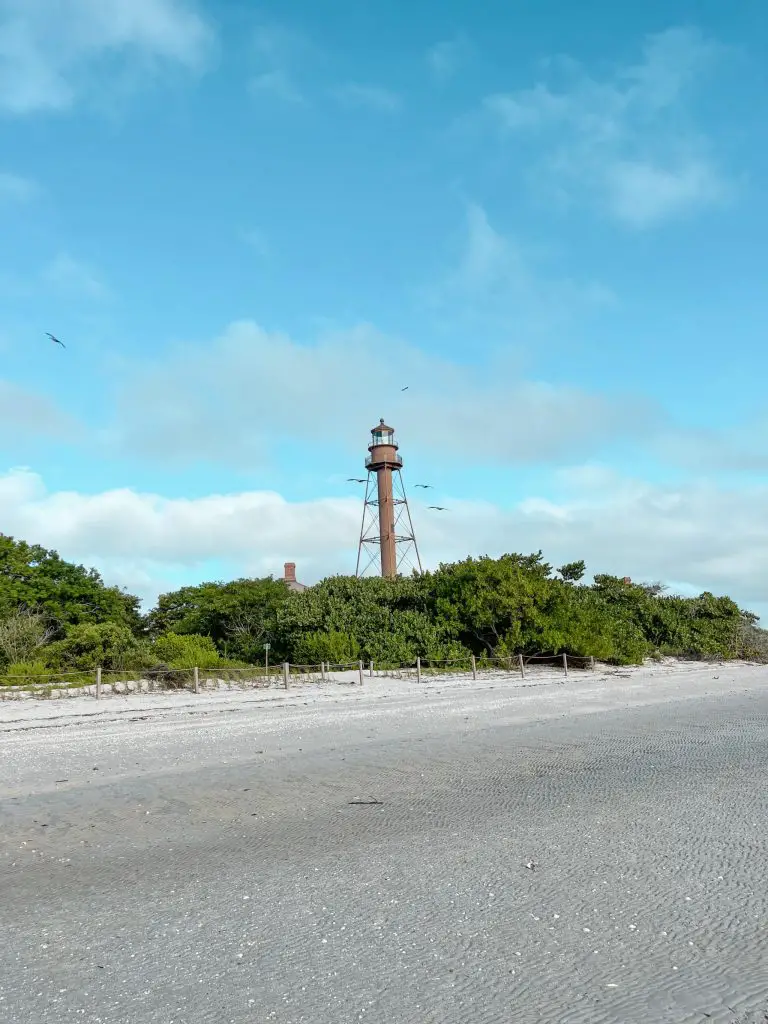 I suggest you arrive early to get a good spot on the beach, as it is very popular among us locals and can get crowded. Besides the gorgeous lighthouse full of history, shelling and dolphin watching are some of the most popular things to do in Sanibel Island's Lighthouse beach. So grab a bucked and stroll around to find the perfect shell to add to your collection. 
Sanibel Causeway Beaches
Located on the spoil islands used to link Sanibel to the mainland the Sanibel Causeway Beaches are very popular for windsurfing and kayaking. They are also unique in that you can park your car right on the beach so they are the perfect spot for a picnic or beach BBQ. 
Just 12 miles from downtown Cape Coral the Sanibel Causeway Beaches are  one of the best places to watch dolphins in Southwest FloridaThey are also one of the few beaches in the area where you can bring your dog on a leash. Just remember to clean up after them, as children love digging in the sand as much as your pooch!
Take into account that to reach these beaches you are required to pay a $6 toll to enter Sanibel. But since the parking is free here and you can park right on the beach the trade off is totally worth it!
Situated on Estero Island, Fort Myers Beach is the closest (and most coveted) beach in Fort Myers, a massive draw for tourists visiting the area. It sits in a beautiful location on a barrier island, covered with sugary white sand, perfect for fun in the sun and Instagramable sunsets.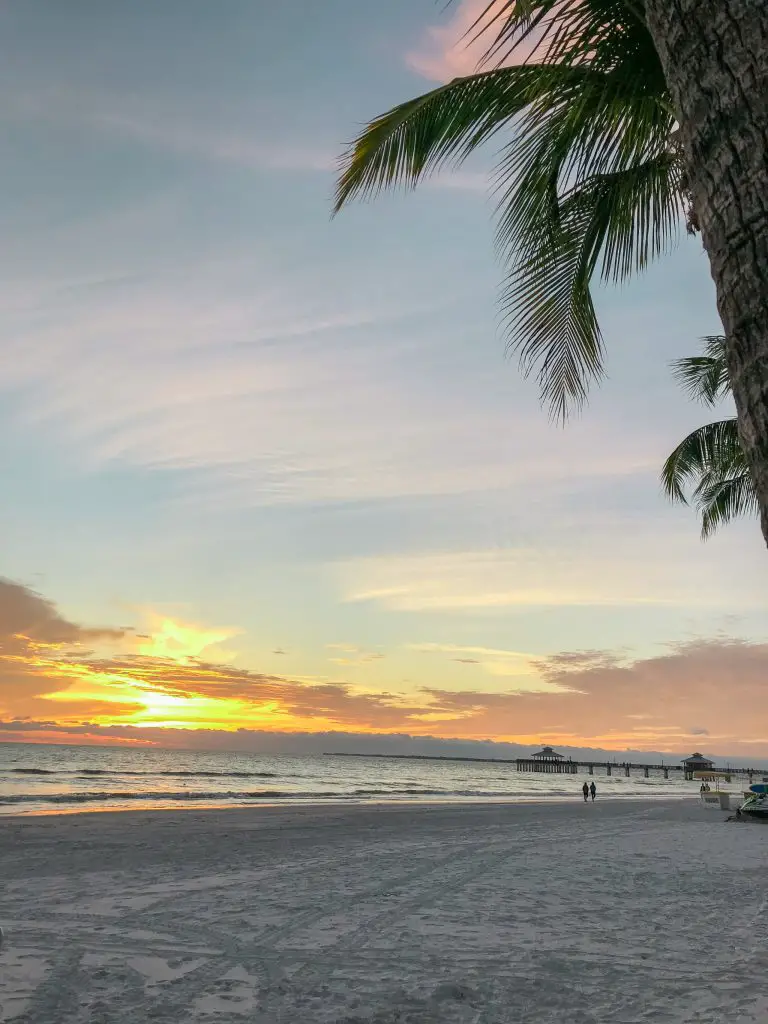 There are plenty of rental shops along the beach where vacationers can lease beach chairs, umbrellas, or water sports equipment to enjoy along the waterfront. Don't worry about arriving too early, as there is plenty of room to spread out! Fort Myers beach is the place to go for  watersports such as parasailing, and where you can book fun water adventures like a dolphin waverunner tour.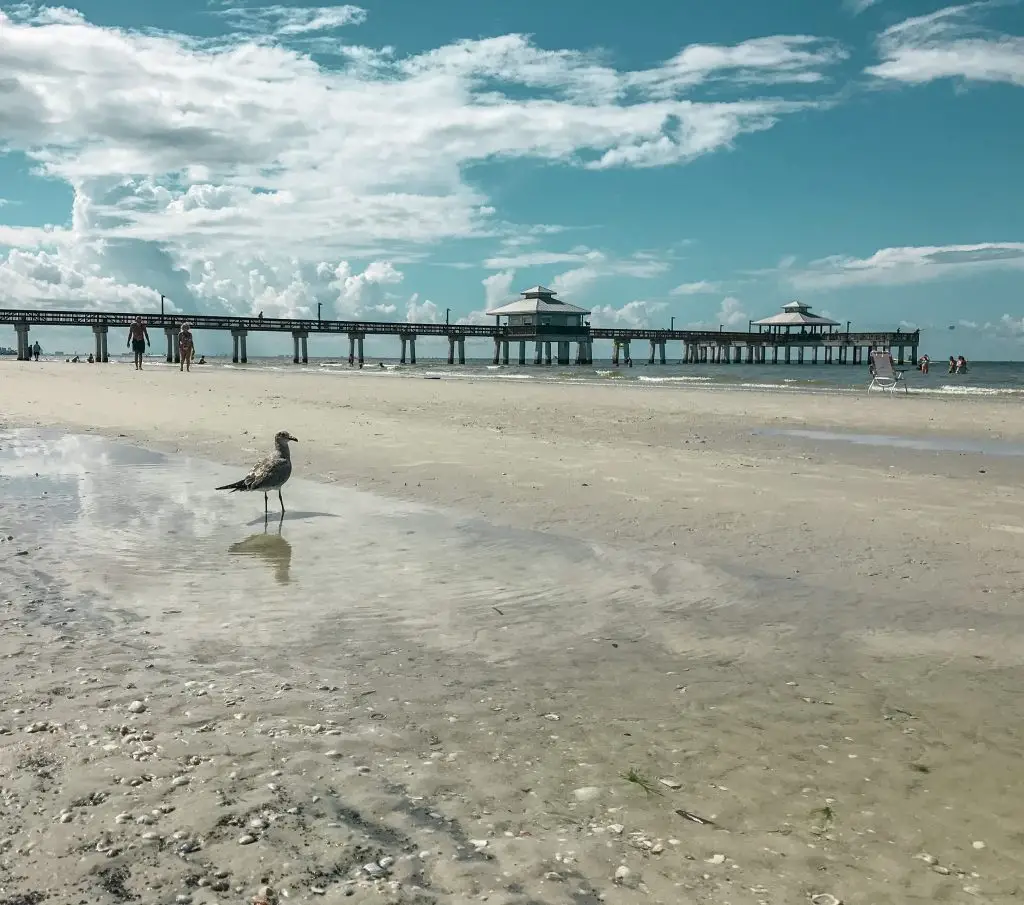 Known for its gorgeous hiking trails and impressive panoramic views of Estero Bay, Bowditch Point beach is a great place to go for a beach day. I love spending downtime at Bowditch Point Park, as the lush vegetation full of driftwood and mangroves encompasses the uncrowded beach that just emanates serenity.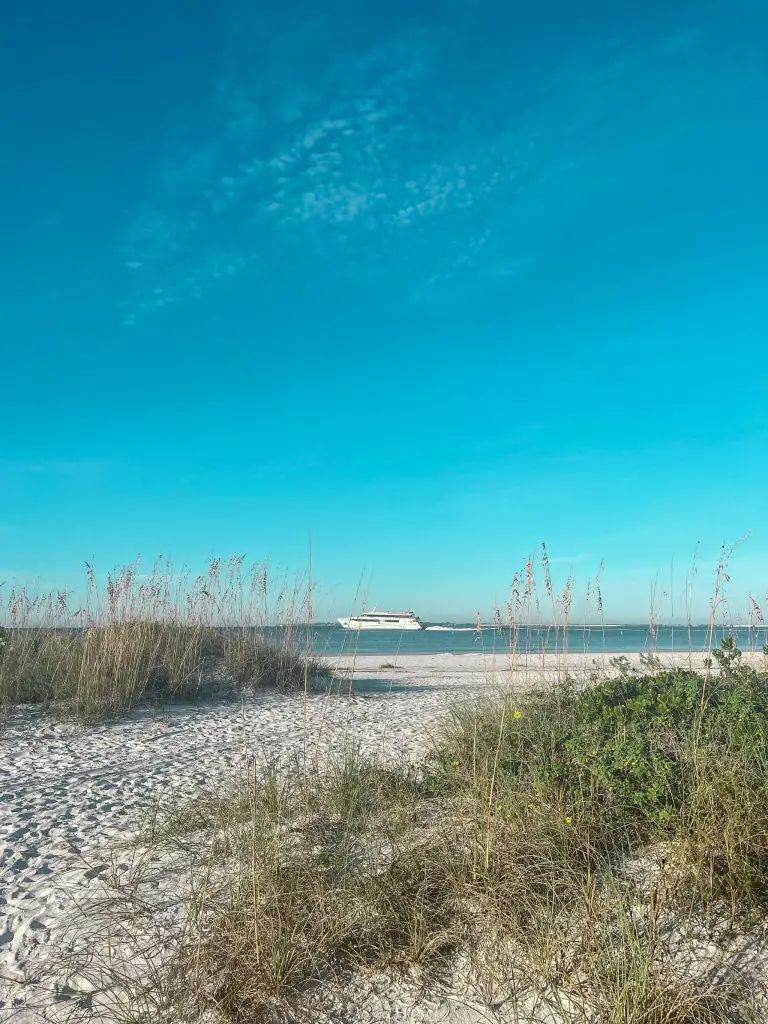 The park sits on 17 acres at the end of Estero Island, with a beautiful shoreline in Matanzas Pass and the Gulf of Mexico. Ten of those acres are part of a preservation area full of stunning walking trails and colorful butterfly gardens. And if you are into watersports like me, the park offers paddleboard and kayak rentals to take in the beauty of the area from the water.
Lovers Key State Park has four barrier islands, and the largest one situated on the gulf side is Lovers Key Beach. This secluded beach stretches for over 2 miles, with gorgeous white sand perfect for shelling, swimming, or spending a lazy day under the sun.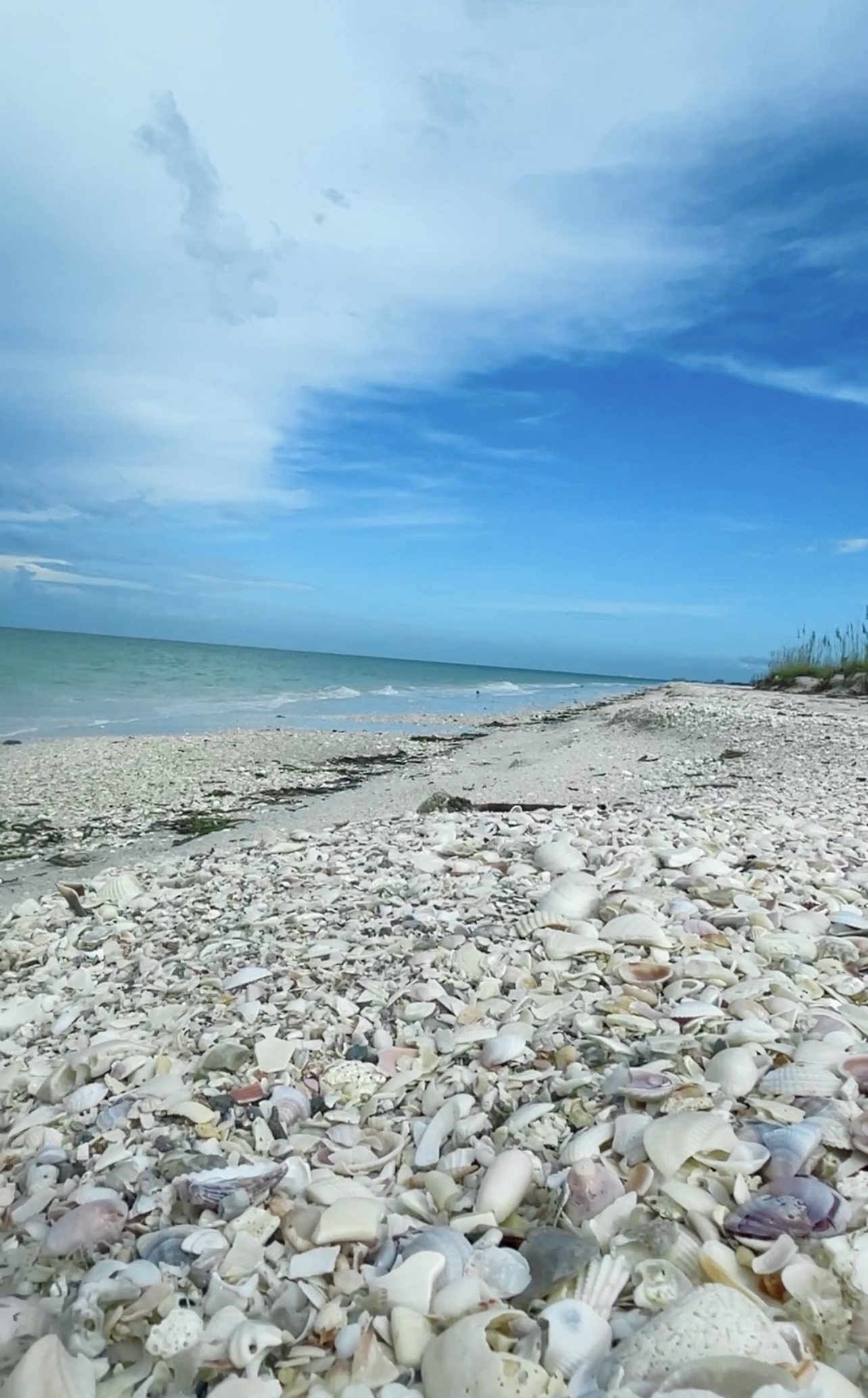 The calm waters are a magnet for wildlife, and we love taking the kids to a beach picnic while keeping an eye out for the dolphins cruising by. On Lovers Key Beach , you can rent paddle boards and kayaks to explore breathtaking canals. Who knows, you might get lucky and see a manatee lounging in the pristine lagoons!
I hope my guide to the best beaches in Cape Coral and nearby helps you discover a new favorite beach in Southwest Florida. So take your family on a day trip to explore one of these charming destinations and relax under the sun. And if you are visiting Cape Coral during the winter, don't worry! Click here to find fun family activities you can enjoy year-round in one of the best beaches near Cape Coral and neighboring areas.