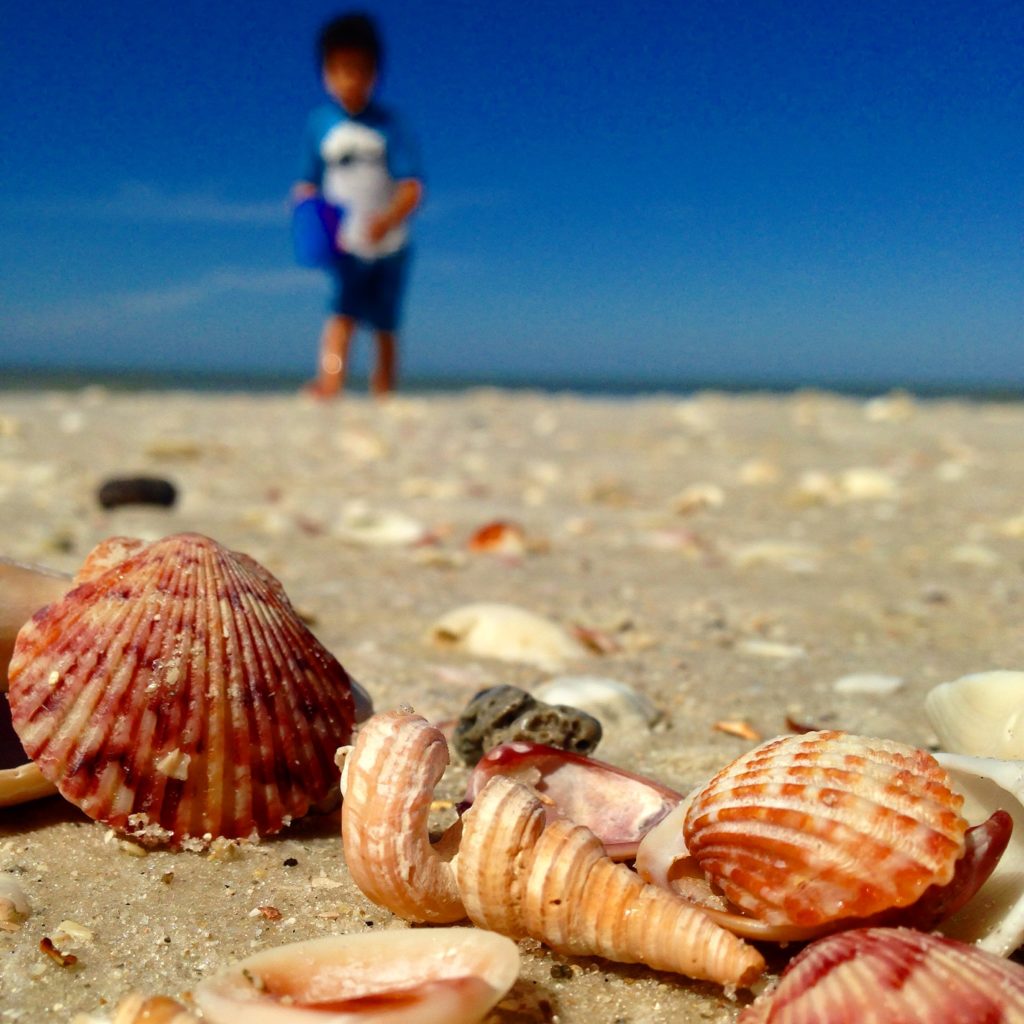 Sanibel is located in Southwest Florida just minutes away from Fort Myers. This barrier island boasts spectacular beaches, world class shelling and a laid-back ambiance reminiscent of old time Florida.  There are no chain restaurants, no theme park attractions, no high-rise condos or traffic lights here and family fun goes back to what it used to be when I was growing up: spending time together and connecting with the breathtaking nature that surrounds you everywhere you turn.
With flocks of beautiful birds calling the island home and turtles coming to nest in its shores most activities in Sanibel are tied to enjoying its natural beauty.  This is the perfect place for families to enjoy a laid back and relaxing vacation that will surely be filled with happy memories and unforgettable experiences.  Here are our recommendations for the best things to do in Sanibel Island with the children.
Shelling: Beach Fun for All Ages
Sanibel is not only considered one of the best shelling beaches in the US, but one of the best in the world.  Avid shell seekers flock from all corners of the planet and you will see them combing the beaches early in the morning and doing the Sanibel Stoop; yes, bending down to pick up shells even has its own name in Sanibel!
Shelling is a fun activity that everyone in the family can enjoy. You can organize a will have fun scavenger hunt wit the kids to collect and identify the different shells you discover on the beach. You can purchase a shell identification card on any of the beach souvenir shops or visit ILoveShelling.com and print it out to start your collection. There is no right way to shell, it's all about having fun. For some kids, it's all about quantity and not quality, my daughter just picks countless shells until she fills her bucket while my son loves to pick the special and interesting shells and use them as decoration for his sand castles. I on the other hand am always on the lookout for the rare shells or shells that I can use to make some crafts when we get back home.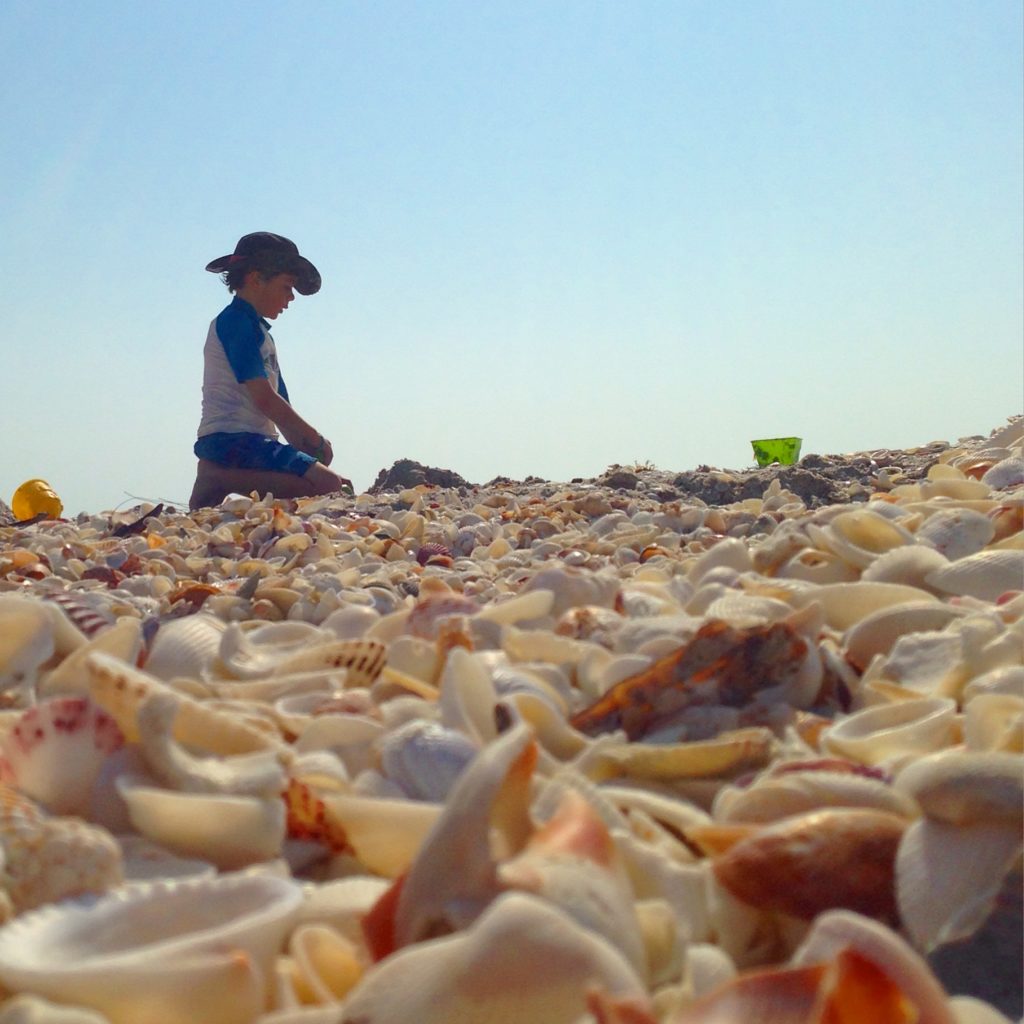 Great shelling spots in Sanibel include Lighthouse Beach where you will find some of the smaller varieties of shells or heat to Turner Beach in adjoining Captiva Island for larger conch, cockle and scallop shells. For the best shelling arrive at the beach at the earliest low tide, when the water recedes uncovering thousands of shells. Shells are especially abundant after winter storms stir up the ocean water. You can find a tide chart for the area beaches HERE. Remember that it's illegal to collect "live" shells so make sure that the shells are empty before you take them home.
Send the Kids Off To Sanibel Sea School
Dedicated to teaching children and adults about marine ecosystems Sanibel Sea School's main campus is located in Sanibel Island, there is also campus in Captiva at South Seas Island Resort and a third campus at Sundial Beach Resort & Spa. All the locations where carefully chosen because of their rich estuary ecosystems. This non-for-profit has experiential educational programs for children and adults that take full advantage of its location on these beautiful barrier islands brimming with marine life.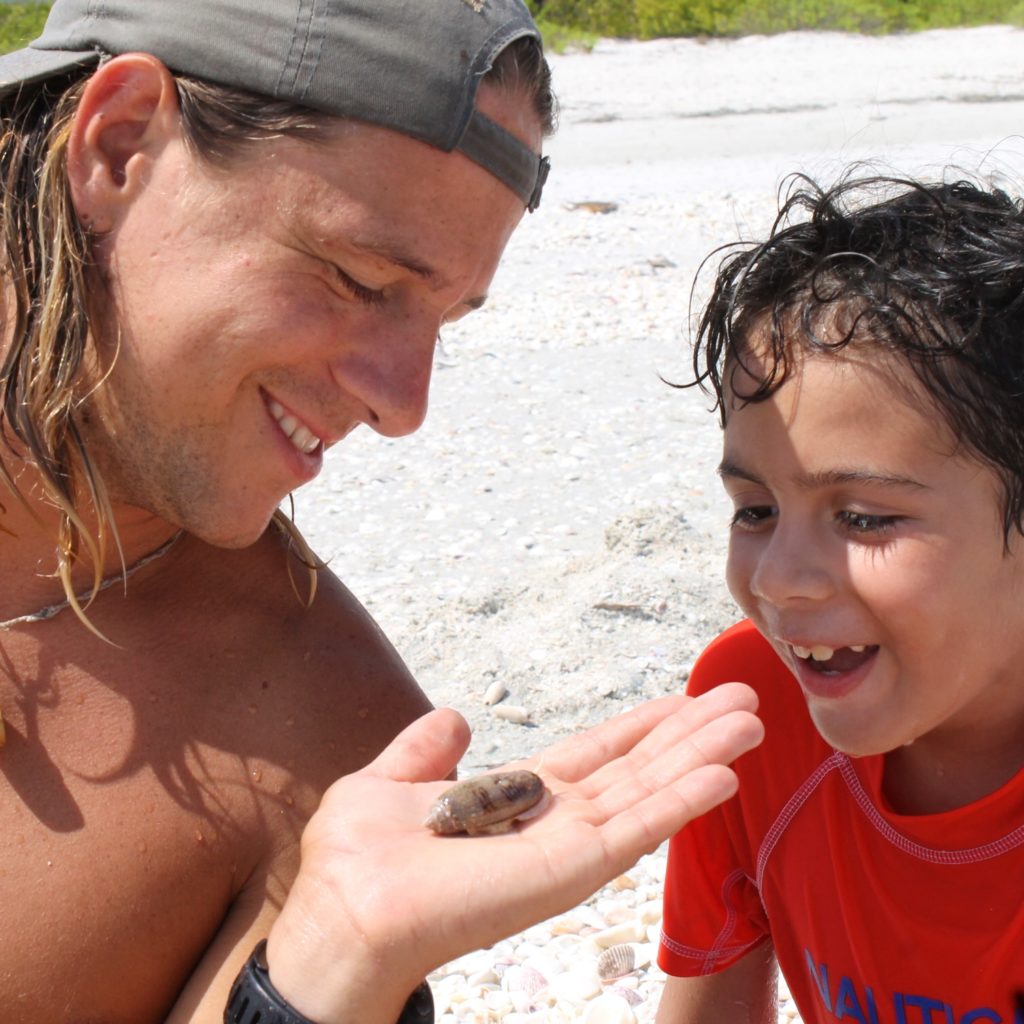 My kids have been to Sanibel Sea School a couple of times and they just love it.  They not only get to learn about the ocean and about marine life by spending a fun day on the beach looking for critters but they always make lots of friends as well. I recently tagged along with them as they learned about Pelicans and Barrier Islands on the Sundial Beach Resort & Spa campus and even I learned so much and had a wonderful time!
Visit The Bailey Matthews Shell Museum
The Bailey Matthews National Shell Museum is the only shell museum in the country and in it children and adults will learn all about shells and the living critters that call them home.  This is a great place to visit when you want to get away from the heat or during a rainy day.
This small museum is much more than a collection of local shells, here you will find shells from all over the world as well as shell art, a beautiful collection of sailor Valentines and even information about how mollusks are eaten around the world.  We spent about 2 hours here and my children who are 7 and 10 where engaged and entertained.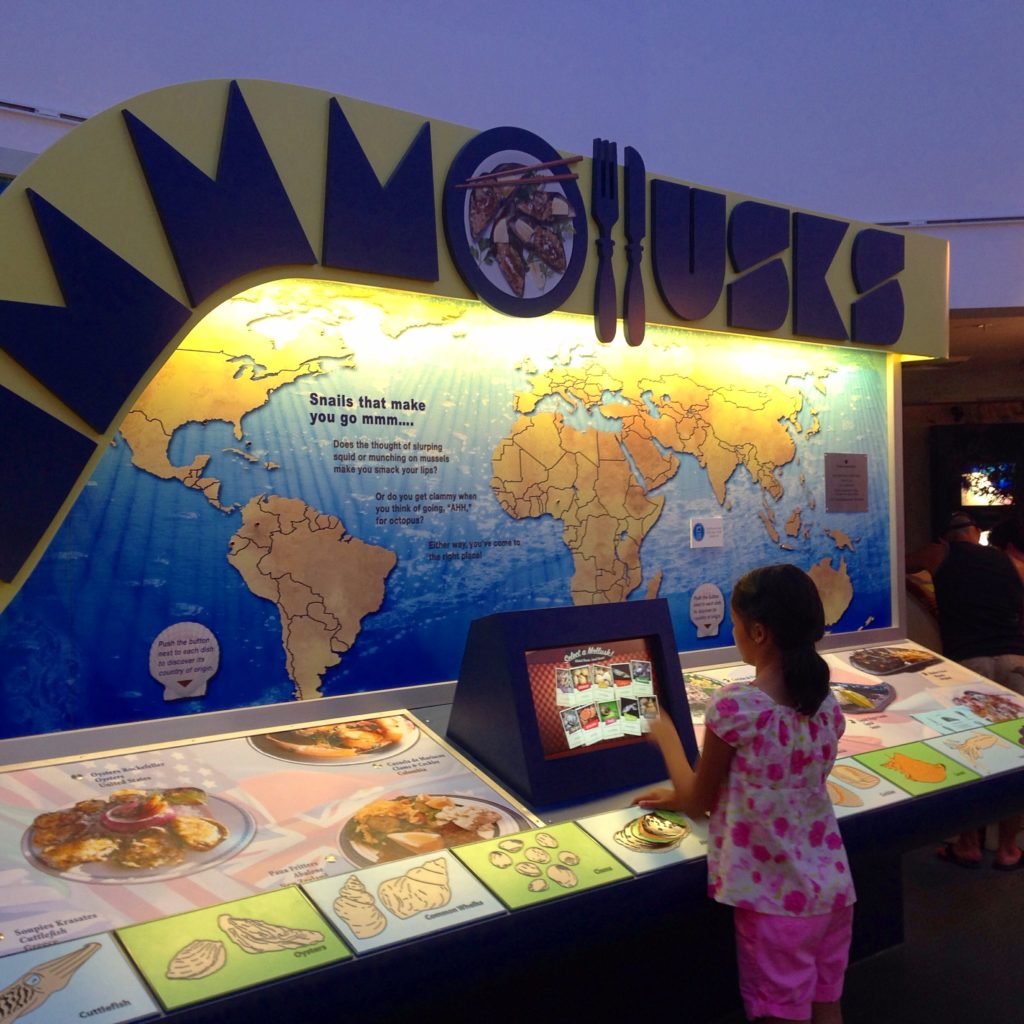 There are various interactive exhibits and my kids really loved visiting the museum after spending time collecting shells and learning about the mollusks that call them home at the Sanibel Sea School. The museum has a fun scavenger hunt where kids try to locate specific types of shells in the museum and once they had completed it they got a special prize; the can choose their own beautiful local seashell.
There are two daily live tank talks where kids and adults will learn a lot about shells and mollusks, the museum shows two short films and you can also sign up for a beach walk with a marine biologist.
Admission is $11 for adults, $5 for kids 5yrs and older and kids under 4yrs and under are free.
Get Close To Nature At Ding Darling National Wildlife Refuge
More than half of Sanibel island is made up of wildlife refuges, the largest being J.N. "Ding" Darling National Wildlife Refuge known for it's abundant bird life.  The Wildlife Drive, a 4 mile road that you can drive through or bike along lets you drive throughout he refuge observing the local wildlife along the way.
During low tide, countless of water birds feed on the exposed mud flats.  On our visits we saw roseate spoonbills, reddish egrets, blue herons and many other small birds as well as turtles, alligators and snakes.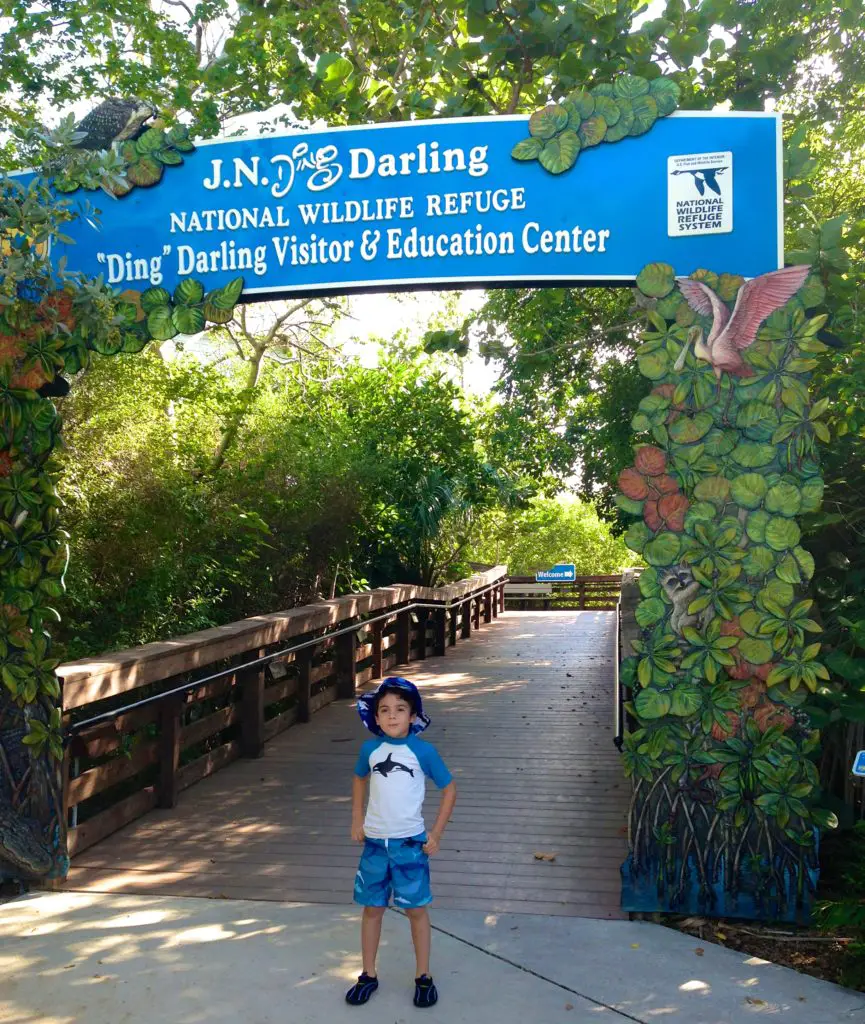 There are many places along the way where you can park the car and get out to see the wildlife and learn about it as well.  There are also many trails that can be accessed from the Wildlife Drive. Tram tours are offered through Tarpon Bay Explorers which is a great option as the tour guides provide a wealth of information about the area and the wildlife that you would not get if you toured on your own.   There are also kayak/canoe and sea life interpretive tours and bicycles, kayaks, canoes and pontoon boats are available for rent.
There is a small visitor center that has various interactive exhibits and lots of information about the local ecosystems and their inhabitants.  We spend about half an hour at the visitor center before heading out on the Wildlife Drive.  At the center kids can earn a ranger badge and both of my children walked out with coloring books and lots of fun activities.
The J.N. "Ding" Darling National Wildlife Refuge is opened daily, except for Fridays and is closed on federal holidays. You pay $5 per vehicles or $1 per biker or hiker to access the Wildlife Drive and trails, the visitor center is free.
Discover A Natural Island Paradise In Cayo Costa
Cayo Costa also known as La Costa Island, offers over 9 miles of beautiful unspoiled beaches and acres of pine forests, oak-palm hammocks and mangrove swamps make this barrier island a Gulf Coast paradise. Brimming with wild life it's a great place to visit for bird watching, snorkeling, hiking or just talking a walk along it's sugar white sand beaches.
This lush little slip of land is only accessible by boat and there are ferries and cruises that will take your there from either Captiva Island or Pine Island that offer half-day or full day trips to Cayo Costa. The Cayo Costa State Park occupies a large percentage of the island and the isolated beaches lined with verdant vegetation have escaped development making this the perfect place to visit if you want to get away from it all and just enjoy nature.
To get there we boarded a boat at McCarthy's Marina in Captiva Island, the captain and our tour guide, both Florida natives, where very knowledgeable about the area and in the 30 minute boat ride we heard so many interesting facts about the area. Once on the island we spent the morning exploring its beaches and observing a spectacular assortment of birds from Great Blue Herons, Sandpipers and Ruddy Turnstones to Frigatebird and Osprey.  It's also very common to spot manatees and pods of dolphins on Cayo Costa's turquoise blue waters.
If you are visiting make sure you come prepared with everything you will need like sunblock, bug spray, drinks and snacks as there are no facilities on this state park island.