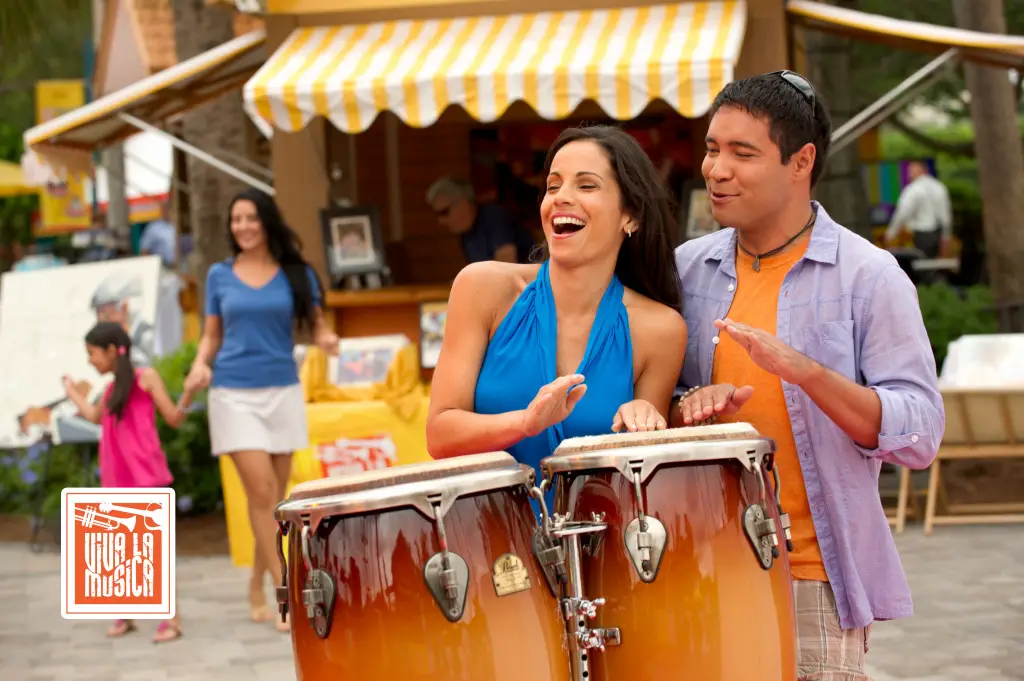 The weather is heating up and SeaWorld is getting ready to start the Summer of with a bang! by throwing the best Latino party in Florida! Saturdays, April 26 through May 17 you can enjoy and celebrate the Latino culture during Viva La Musica, a Latino food and concert festival that is filled with sabor y rítmo!
Viva La Musica SeaWorld celebrates the food, fun, sights and sounds of Latin culture with an annual festival filled with Hispanic culture, featuring live concerts by internationally renowned Latin musical artists, all included with park admission.
I can not wait to attend the Viva La Música festival this weekend, dance reggaeton to the music of Chino & Nacho, enjoy the savory Latin cuisine prepared by SeaWorld Orlando's Executive Chef, Héctor Colón and reconnect with my Latino roots and Latino community.
This is an event that I would not miss, I am already dreaming of tasting those With more than 20 years experience – and a lifetime enjoying countless Caribbean and Latin dishes – Chef Colόn has added his touch to the traditional Latin favorites such as empanadas, arroz con pollo, carne frita and bacalaítos.
As with all SeaWorld special events, performances are included with admission, Fun Card or annual pass. Viva la Música festival activities begin at 12 p.m. each Saturday, with concerts starting at 3 p.m. at Bayside Stadium:
Saturday, April 26 – Chino y Nacho (reggaeton)
Chino & Nacho is a Venezuelan pop duo, consisting of Jesús Alberto Miranda Perez (Chino) and Miguel Ignacio Mendoza (Nacho). In 2010, the group won a Latin Grammy for Best Urban Album for "Mi Niña Bonita."  Formerly, the two men were part of the Venezuelan group, Calle Ciega.
Saturday, May 3 –  La India (salsa)
India, also known as the new "Queen of Latin Soul," made her debut in the music business in the '80s, with the popular dance group TKA, one of the first Latin free style groups to take over the streets of New York. She is a multi- Grammy Nominee, and has collaborated with renowned vocalists such as Oscar De León, Gloria Estefan and Michael Stuart.
Saturday, May 10 – Victor Manuelle (salsa)
Originally from Puerto Rico, Victor Manuelle is an international star who has sold out concerts at Madison Square Garden and Carnegie Hall.  "Si Tú Me Besas" reached number one on Billboard's "Hot Latin Songs" chart.
Saturday, May 17 – Olga Tañón (merengue)
Olga Tañón is a Puerto Rican recording artist whose singing career began when she joined a group called "Las Nenas de Ringo y Jossie" (Ringo and Jossie's Girls) in the '80s. A short time later a very popular group in Puerto Rico called "Chantelle" noticed her mezzo soprano voice and recruited her. Over the course of her career, she has earned two Grammy Awards, three Latin Grammy Awards, and 29 Premio Lo Nuestro Awards.
The amazing shows are general seating; however, reserved seating for your favorite concerts is available with the following packages:
Front Row VIP seating –Front Row seats can be purchased starting at $39.
Viva la Música VIP Package — Starting at $29, this special package includes a meal (entrée and any one item from a selection of side salads, side dishes or desserts, plus a regular-sized non-alcoholic beverage) at any Viva la Música food sampling area or SeaWorld cafeteria-style restaurant, plus reserved seating — Center Stage!
VIP seating – Want to make sure you get a good seat to your favorite show?  Purchase this package to buy your reserved seats for $19.  
All packages are available at SeaWorldOrlando.com.
The best way to experience Viva la Música is with a 2014 Annual Pass, starting at only $13 per month with EZpay, for Florida residents. Plus, with an Annual Pass, you can experience SeaWorld's 50th Celebration featuring new interactive experiences and shows, even more up-close animal encounters at the all-new SEA Garden and the SeaWorld "Surprise Squad" treating park guests with prizes and special experiences every day.
For more information, visit SeaWorldOrlando.com.  Viva la Música event dates, times and artists are subject to change.
Follow 365 Things to Do In Southwest Florida on Facebook for the best travel ideas, events and attractions for the whole family.