Disclosure: We received complimentary tickets to visit the Dalí Museum in Saint Petersburg. However all opinions are sincere and are my own.

On our recent family trip to Tampa we visited the Dali Museum in Saint Petersburg.  Having two extremely active and curious children we are often hesitant to take them to an art museum. At the same time we are very aware of the importance of introducing them and getting them excited about art at an early age so we decided to give the Dali Museum a try and boy did we make the right decision.
From the minute we walked towards the building the children where captivated by the architecture.  Bulging glass hugged a concrete box building, just like a modern sculpture that you can walk into.  In the main atrium the central spiral staircase climbed up into the second floor but seemed to continue upwards right into the sky.  Any child would be wowed by it.
If your children need to burn some energy before going inside you can explore the gardens from where you will get the best exterior views of the museum's architecture.  Both of my children ran right to the tree decked with garlands made from old wrist bands which blow in the wind giving the tree a mystical feeling. There are lots of things for children to discover in the garden from a hedged labyrinth, the famous giant 'stach sculpture and physical representations of Fibonacci numbers and Pi piques that offer a preview of Dali's art and how it integrates many of these mathematical concepts.
When we went inside the kids where given a card so that they could participate in a fun art scavenger hunt, looking for different works of art throughout the museum kept them entertained and interested.  The museum offers audio tours and they have one specifically for kids, I thought they would get bored after a few minutes but both of them heard most of it and seemed interested.  I think it also helped that Dalí's art is very interesting and they where curious and asked questions about many of the paintings.
During our visit we took a couple of breaks between galleries.  We stopped to look out at the beautiful view of the harbor and the boats for a while in the second floor balcony, we visited the Education Classroom that is filled with activities children and their families can explore on their own and we also took a break at the cafeteria to take a bite.  Taking lots of breaks helped to keep the kids in a good mood and interested.
We where pleasantly surprised not only by the architecture and the amazing works of art but about the fact that The Dalí Museum is so kid friendly.  I believe we really picked the best museum to visit with the kids and know we will be coming back soon.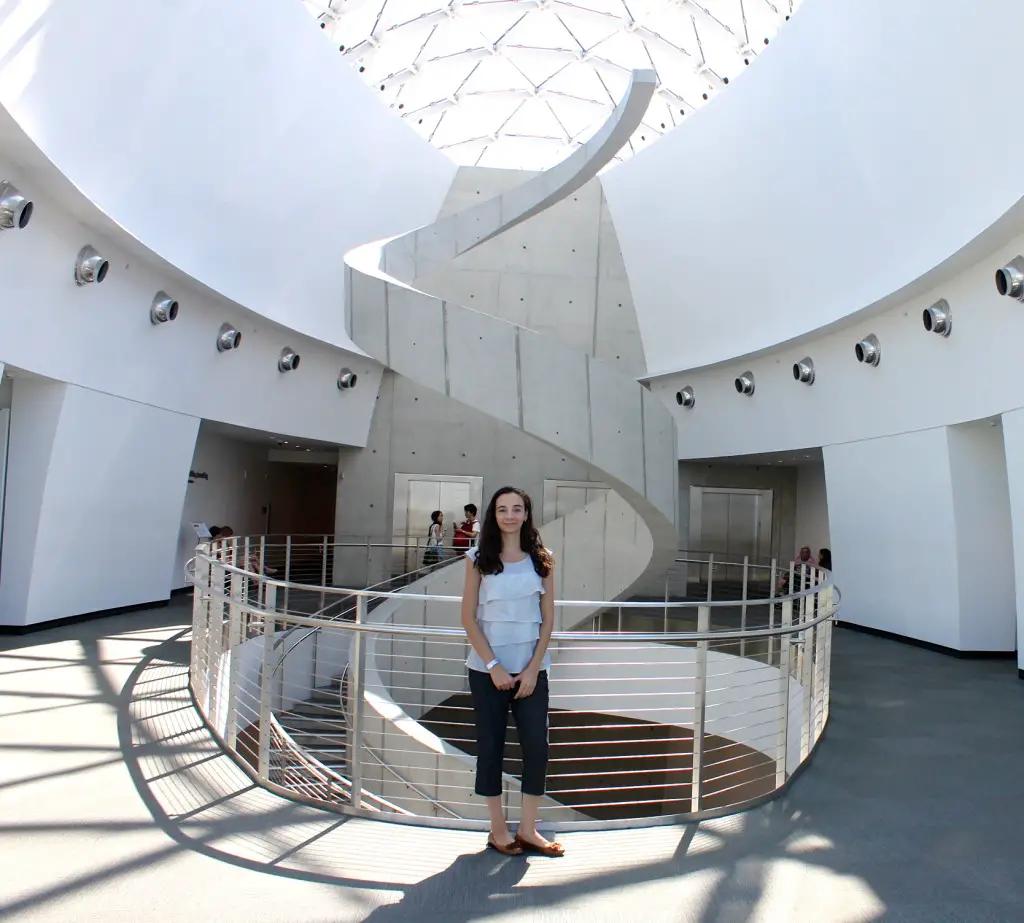 If you would like to learn more about The Dalí Museum you can visit their website at www.thedali.org, check out their family programs which include weekly story time activities and like their Facebook page to stay up to date on their events and activities.
This is part of a series of articles: Tampa with Kids , you can read more articles in the series HERE. #TampaWithKids
Follow 365 Things to Do In Southwest Florida on Facebook for the best travel ideas, events and attractions for the whole family.