Disclosure:  We received a complimentary one night stay at Ringling Beach House in Siesta Key where our family had an truly unforgettable beach vacation . All opinions are sincere and are my own.
Just across the street from what is considered the best beach in the US, The Ringling Beach house in Siesta Key Florida has the kind of personal service and warmth that can only be found in small hotels. With only 9 rooms and.  This is a hotel that caters to families with children and it is the ideal place for a weekend family getaway or a  week-long vacation.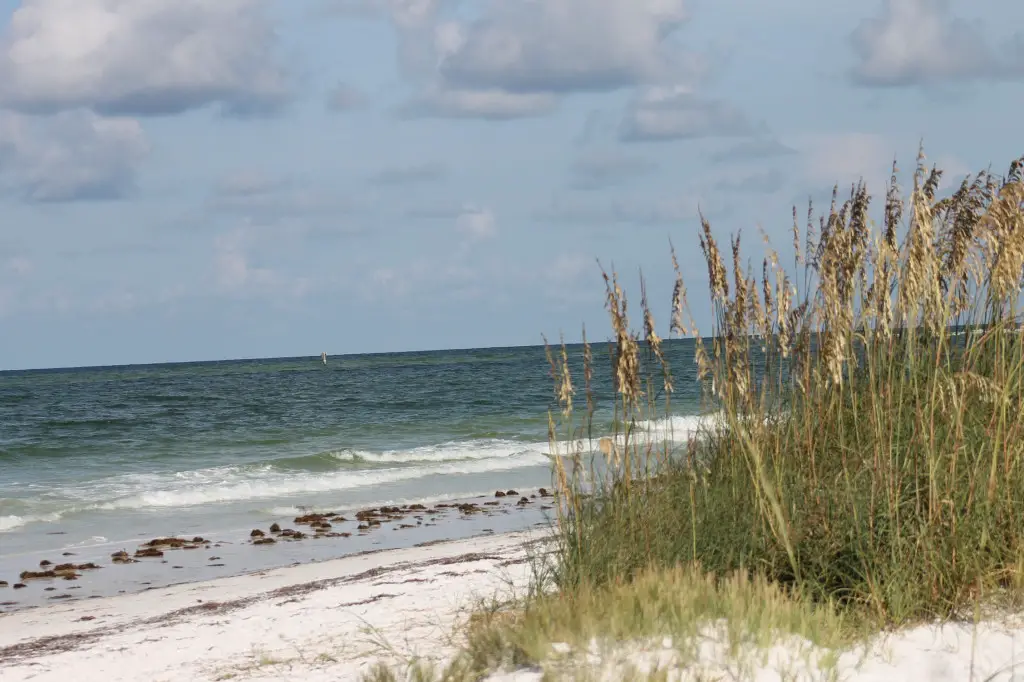 From the minute we walked in we felt welcomed and the attention and service was beyond personal, it was like staying at a friends house.  Decorated with lively colors and beach motifs form the bedspreads to the murals around the pool everything has a fun and casual island feeling to it. As soon as you walk into the Ringling Beach House you are transported into a world where all your worries are washed away and replaced with warm ocean breezes and sugar-fine sand between your toes.
The rooms with a full kitchen make it easy to prepare your own meals and save some money. We ate breakfast  in the room and for lunch we had a picnic right on the beach! The location right across the street from the beach and just a couple of blocks away from the Siesta Key Villages where you can enjoy shopping or dinning at one of the many eateries is ideal.
You will find everything you need to make your stay at the cozy Ringling Beach House a memorable family beach vacation.  The two small pools with grills maintain that homey feeling and there are beach chairs, umbrellas and even beach toys from trucks to bright colored beach shovels and pails for you to take along to the beach.
I can not say enough about the staff and the service.  Natalia really did everything in her power to make our stay unforgettable, memorable and special. We arrived early and before heading to the beach my daughter told her dolphins where her favorite animal, when we returned to our room a couple of hours later we found a welcome basket with goodies and toys for each of the kids.  She apologized to me saying that she had tried to find a dolphin toy to include in the basked but could not find one!
Amenities
The Ringling Beach House offers 10 units that range from efficiencies to 2 or 3 bedrooms suites, fully-stocked kitchens, expansive porches or decks, flat screen TVs with Blu-Ray DVD players and digital cable, free wireless internet. There are also two fenced in pools with grills available. The price for a 2 bedroom suite with full kitchen and living area ranges from $160 in low season to $220 in high season.
On they website it reads: "May all who enter as guests, leave as friends!" and we found these words to ring true for us and we know we will be returning soon.
Visit the Ringling Beach House website to learn more about them or to make your reservations and like The Ringling Beach House on Facebook to stay updated on their latest news and specials.
Follow 365 Things to Do In Southwest Florida on Facebook for the best travel ideas, events and attractions for the whole family.