Southwest Florida high school students have the opportunity to participate in a virtual summer camp focused on environmental justice and geographic information systems (GIS). Mapping Justice, in partnership with trubel&co, Esri and FGCU's Water School Center for Environment and Society, offers a unique program that empowers students to design geospatial tools for social change and promote equity within their communities. Students who complete the program will be awarded a $500 stipend!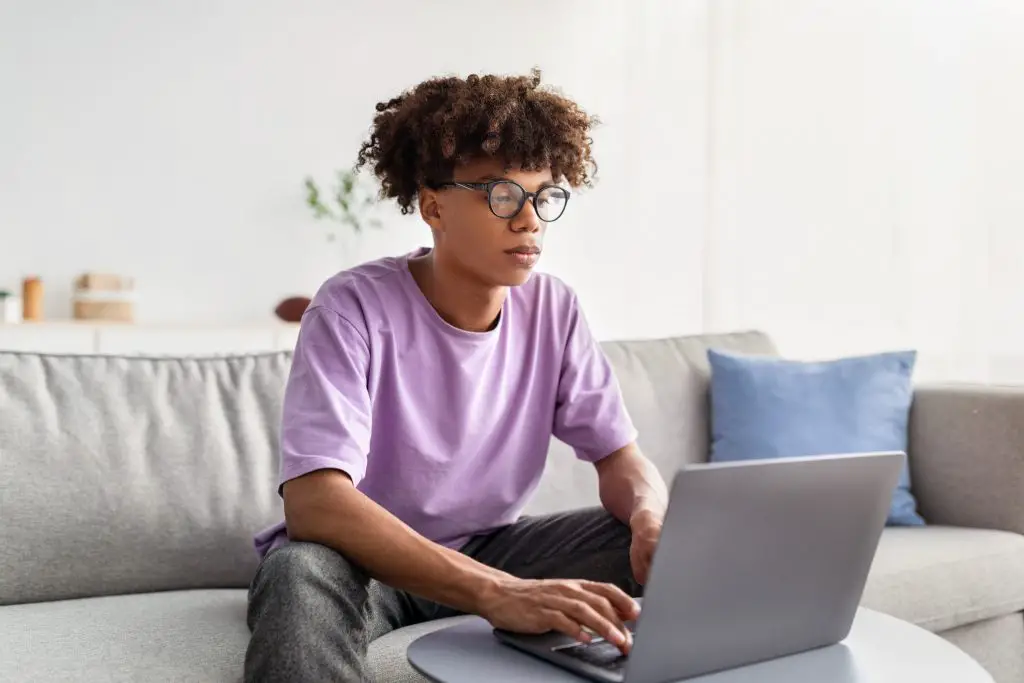 The Mapping Justice Program
The Mapping Justice summer program runs from June 12th to August 4th and provides students with valuable career skills, college readiness, and community-driven change experience. The course is centered around Gulf Coast climate issues, and participants will learn about geographic information systems (GIS, which enables multiple technical pathways, including data analytics and visualization, product design, coding, and urban science. These skills are applicable to various careers and provide a competitive advantage to those who possess them.
Facilitators guide students through curricula on race, power, and technology to foster critical consciousness and responsibility/ethics in STEM. This approach helps students understand the role identity and place play in innovation and how to use geospatial analytics to tackle complex community-based challenges tied to their areas of passion. In the end, students create maps, dashboards, and digital apps that use GIS to address social issues with real-world implications.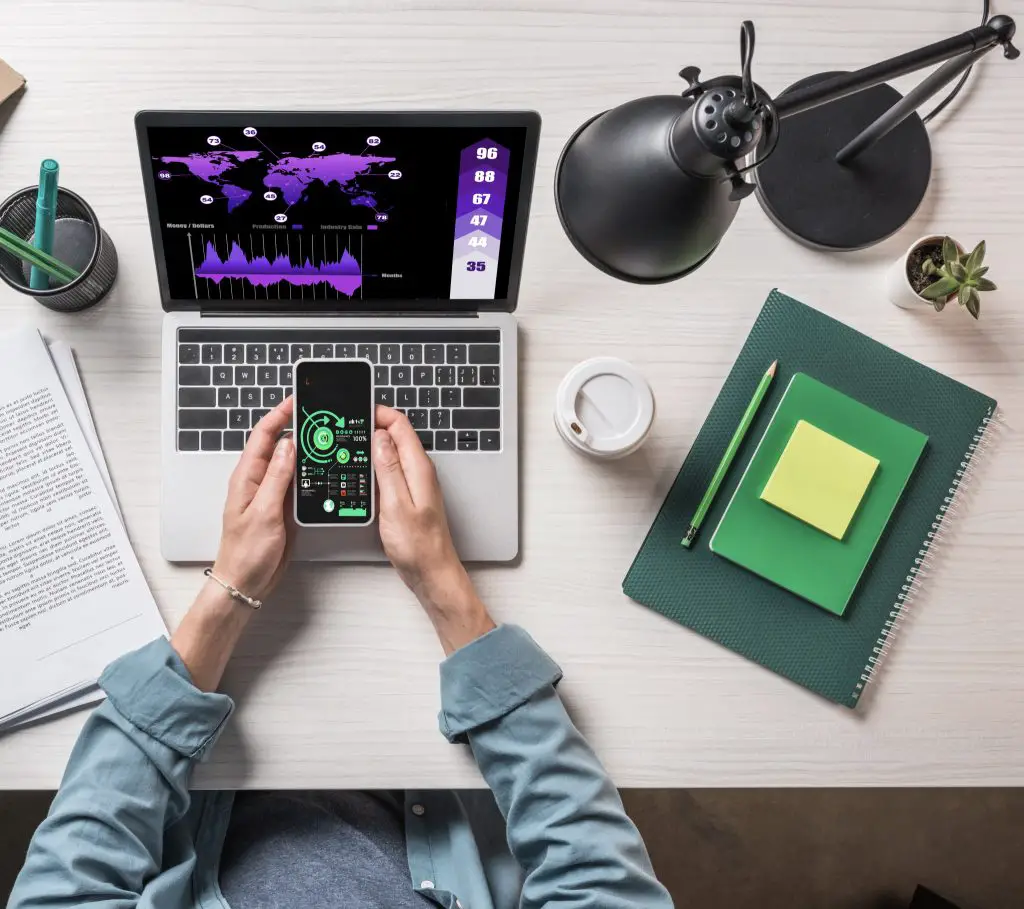 GIS is a crucial tool for understanding our increasingly interconnected, complex world, and it's key to solving the serious problems we are facing. Spatial thinking is crucial to developing critical thinking skills and enabling data fluency. By participating in the Mapping Justice program, students develop their potential in spatial analysis via ArcGIS, building technical literacy in the applications of data and furthering competency in analytics, such as data collection, cleaning, analysis, interpretation, and visualization.
Through the Mapping Justice program, students explore the realm of justice and responsible tech and how spatial data enables social movements and liberation. They gain the ability to devise and communicate a research plan and its outcomes and enable their self-efficacy in self-directed learning and proactive development.
Giving Teens the Tools They Need to Promote Civic Change
In addition to these educational benefits, students leave the program with increased technical proficiency, a concrete understanding of the role identity and place play within STEM, and an opportunity to design and implement their own vision for civic change. The program creates a pipeline of changemakers committed to improving their community using equitable data analytics, responsible technology, and inclusive design.
Esri, the leading geospatial technology provider, has partnered with trubel&co to expand access to GIS and spatial thinking since their inception. The geographic approach has enabled students to explore many social issues with data, and GIS is used to drive decision-making across industries to assess both macro and micro questions around the "where" of their operations.
The Mapping Justice program offers high school students in Southwest Florida a unique opportunity to develop essential skills and contribute to positive community change. By providing students with an education in GIS and promoting critical thinking skills, this program empowers students to become agents of change and equips them with tools to tackle complex problems with real-world implications.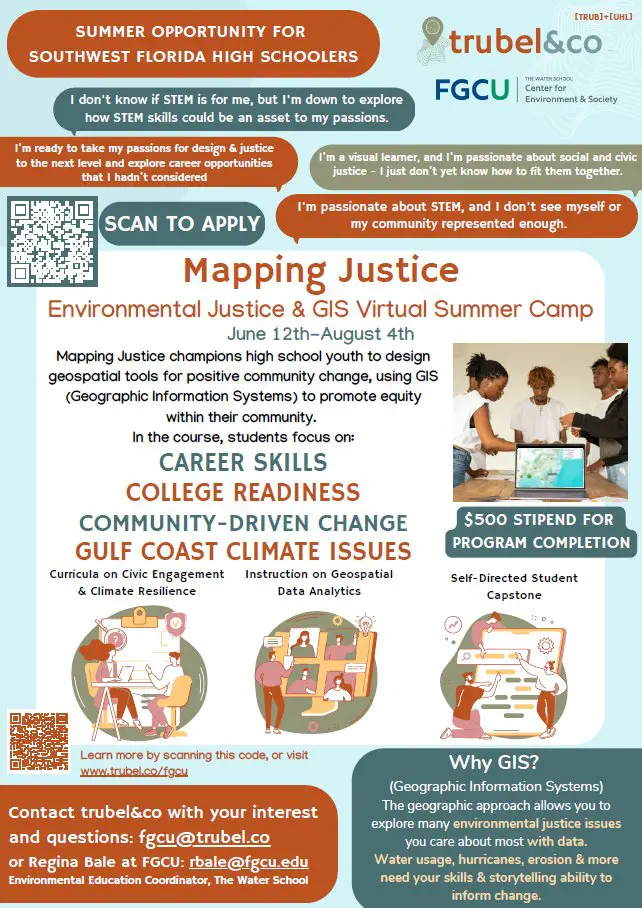 Why GIS
GIS (Geographic Information Systems), is a powerful tool that provides a geographic approach to exploring a wide range of environmental justice issues. By utilizing GIS, high school students can leverage data and storytelling to inform change and make a difference in their communities.
For instance, with GIS, students can explore a variety of critical issues such as water usage, hurricanes, erosion, and other factors that can impact their communities. They can identify patterns and relationships between different variables and make predictions based on spatial analysis. In doing so, students can develop critical thinking skills and a better understanding of how the environment and human activity intersect.
GIS is also an essential tool for communicating information and influencing public policy. By creating interactive maps and dashboards, students can visualize complex data in a way that is easily understandable and accessible to a broad audience. This type of visual storytelling can be a powerful advocacy tool that raises awareness, inspires change, and fosters collaboration among stakeholders.
How To Apply
The program is looking for  students with demonstrated interest in science, math, and/or social justice, with a strong academic record, who are motivated, hard-working, and focused on growth and improvement.It is intended for 10th and 11th grade students. Students from backgrounds underserved  in STEM, defined as coming from a background historically excluded from STEM and/or currently experiencing barriers to STEM, due to race, gender, or class are encouraged to apply.
You can apply here. Application deadline April 26th.
Applicants who successfully complete the Mapping Justice Environmental Justice & GIS Virtual Summer Camp program will be awarded a $500 stipend. This incentive not only provides an extra layer of motivation for participants but also recognizes their dedication to completing the program and acquiring the knowledge and skills necessary to be successful in their future endeavors.
If you have questions or need more information contact Regina Bale, Environmental Education Coordinator
at 239.745.4652  or email her at [email protected].