Just a few blocks from the heart of downtown Naples the Naples Depot Museum houses trains to watch, trains to ride and trains to operate. The museum is housed in a restored passenger station of the Seaboard Air Line Railway. The exhibits which include Seminole dugout canoes, a mule wagon, antique swamp buggy, restored rail cars and exciting interactive exhibits take you back in time to the glory days of the railroad. You will learn how the trains and railroads where instrumental in conquering the impenetrable Florida wilderness and helping to turn Naples from a small village of 300 adventurous pioneers into today's glittering Gulf coast resort.

Outside the main building you can explore the original 1909 Caboose and pretend to ride in style on the 1947 air conditioned Club Car.
The Lionel Train Museum at the Naples Depot
While the Naples Depot is interesting and engaging the Lionel Train Museum, that shares the same building with the Depot but has a different entrance, will really have the little train lovers in your party jumping over the moon with excitement. The Lionel Train Museum consists of a single room in which you will find an intricate Lionel train model. Scale Lionel trains zip by through mountain tunnels and over bridges, through towns and across county fairs. The exhibit has many buttons that you can press to operate the different interactive Lionel accessories: have the little people put ice cubes on the box car, have a train drop off logs at the miniature saw mill where they get cut into boards or stand in front of the camera and have your video displayed in the small outdoor movie theater inside the display.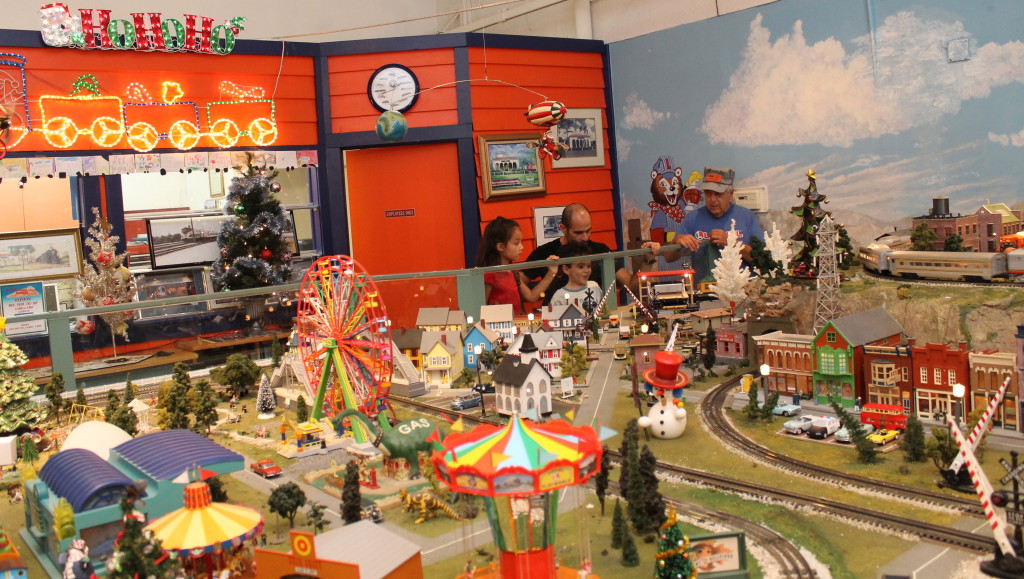 Reminisce at the Wall of Trains featuring original Lionel locomotives and rolling stock and ride the outdoor scale train pulled by either a live steam or diesel locomotive.
The Naples Depot is free and the adjacent Lionel Train has a suggested donation of $5 per adult, $3 for children and children under 3 free. The Naples Depot is open Monday –Friday The Lionel Train Museum is only open Thursday, Friday and Saturday from 10 am to 2 pm. November through May. Please call before going as this information might change at any time. For more information contact the Naples Depot at: 239-262-6525 and the Lionel Train Museum at: 239-262-1776.
Follow 365 Things to Do In Southwest Florida on Facebook for more great ideas, events and activities for the whole family.
Disclosure: I was not compensated in any way for this review.  My opinions are honest and sincere and may differ from your opinions.