Located in Duck Key in the Florida Keys Hawks Cay Resort is my idea of paradise: I could just pack my bags and move there right now. There are many beach resorts out there but I just found Hawks Cay to be magical.  Maybe it was the dolphins or the breathtaking sunsets or maybe it has nothing to do with the beauty of the place and the countless fun activities but more to do with the fantastic memories I made there with my family.
A Place For Making Family Memories
There is no doubt that this beautiful 60 acre resort has everything a family could wish for when looking for a tropical vacation getaway:  large pools, a private beach around a saltwater lagoon, a kid's area, mini golf and so much more.
The kid's area has a colorful pirate ship themed splash area where my kids spend countless hours shooting water at each other with the water cannons. After getting soaked we played a fun game on the mini golf course while a curious iguana watched with interest, which combined with the fun pirate theme on the course turned into what my little guy declared as the best mini golf course ever.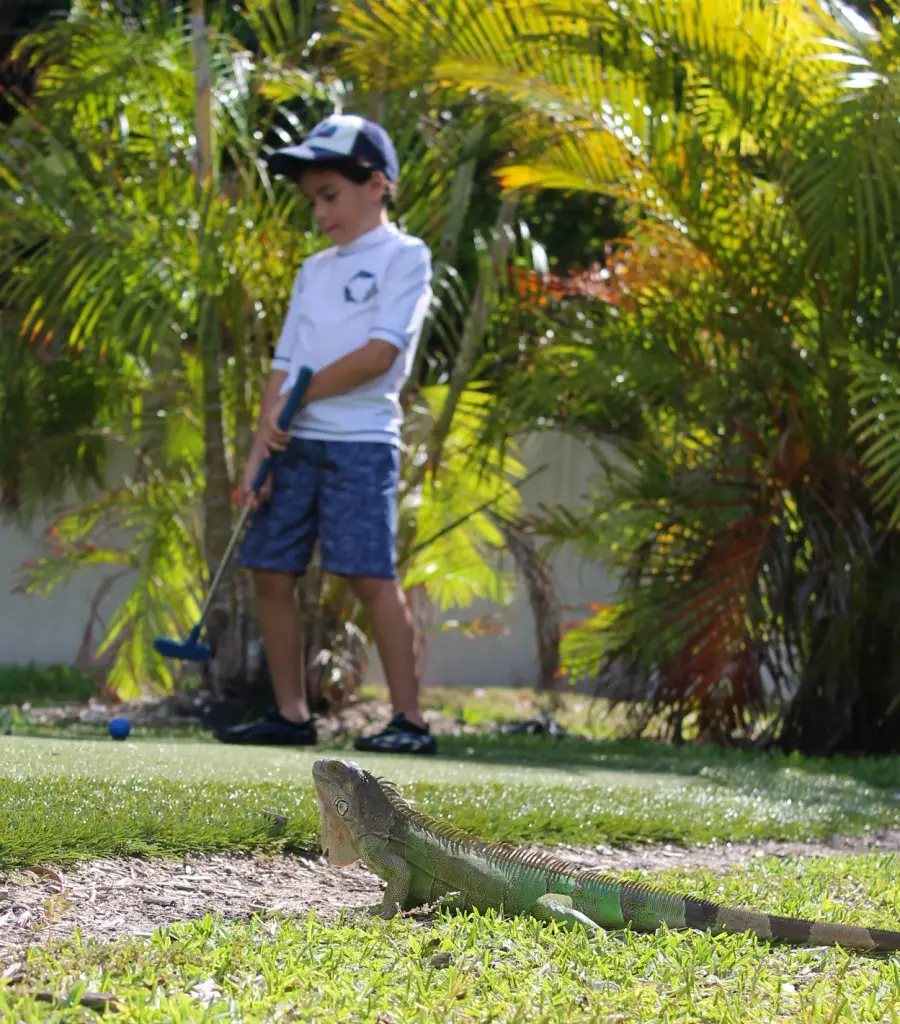 One of our favorite areas in the resort was the salt water lagoon, where the kids could swim or scuba, yes the lagoon has fish, or you could even rent a kayak.  While the kids where enjoying their sea adventures in the safety of the lagoon I got the chance to relax and even get some summer reading done under the shade of an umbrella on the sandy shore of the lagoon.
If you are a morning person, like me, Hawks Cay's location provides you with the opportunity to watch some of the most beautiful sunrises I have ever seen.  One our first morning there I got up just before the break of dawn and headed to the the salt water fed lagoon where the dolphins are and I got to enjoy a breathtaking show: while the sky turned all shades of orange and pink the dolphins started waking up and playing. They would scoop up a mouthful of water, throw the water up in the air and catch it again in their mouths.  There was no one around, and no sound except the sound of the ocean and of the dolphins quietly playing.  It was truly a magical moment that I will never forget.
Swimming with dolphins
Hawks Cay has it's own dolphin facility right on site.  This means that you get the opportunity to participate in various programs where you can interact with these wonderful creatures.  Swimming with dolphins is one of those experiences that can literally change your life. I swam with dolphins for the first time as a teen while vacationing with my family to Cancun and to this day that is one of my most cherished memories.  Many people come to Hawks Cay attracted by their dream to connect with the dolphins in a personal way.
My daughter and my husband participated in the Dolphin Discovery program while my son and I did the Dockside Dolphins program where we had fun getting dolphin handshakes and also getting soaked by the dolphins. It was the first time my husband swam with dolphins and both him and my daughter where so excited and could not stop talking about the experience.
Family Friendly Accommodations
The 177 rooms, most of them with balconies overlooking the ocean have easy access to the pool and to the saltwater lagoon.  There are also two and three bedroom villas, most have decks with water views and full kitchens which are ideal for families and groups.

We loved our room which overlooked the pool and the ocean and let us enjoy a breathtaking view of the sunrise right from our private balcony.  The decor is bright with a relaxed seaside elegance and the beds are super comfortable.
What We Loved About Hawks Cay
There is so much to do for everyone in the family. With five swimming pools, a saltwater lagoon,   onsite watersports, fishing charters, a dolphin facility, multiple restaurants, and a spa everyone has lots of choices!
Being able to watch the dolphins at any time while we where at the resort was wonderful and our dolphin experience was truly memorable.
The kids club not only keeps children entertained and gives them the opportunity to make new friends but also gives parents some free time to relax while enjoying a key lime pie  or two.
The rooms have beautiful ocean views and direct access to the pool while the villas are ideal for families, equipped with full kitchens and
The resort recently underwent a multi-million dollar renovation and everything looks new and I just love the bright and inviting decor.
Part of a recent renovation the kid's activity center has a new high-tech hangout for teens so they can hang out in their own space and make friends in an area that is removed from where all the little kids are playing, as well as a saltwater touch tank for the little ones.
Things to Consider
There are some kid free areas to ensure that people vacationing without kids can find tranquility and relaxation so make sure to let your kids know that those areas are off limits.
The rooms are the right size for couple of people traveling without small children but I found them a bit small for a family of four and because it's only one space there's always the issue of  what to do if the kids fall asleep and you want to watch TV or read a book but can't for fear of waking them up. If you are bringing the family definitely consider staying at one of the villas or family suites.
The dolphin programs have an additional cost but all the guests at Hawks Cay have the opportunity to watched the trained bottle nose dolphins for free.
You must be 4'6″ to swim with the dolphins but younger kids can also get up close and personal to these beautiful sea mammals participating in the Dockside Dolphin program.
For more information about Hawks Cay Resort, visit www.hawkscay.com . Be the first to learn about news and special offers: like Hawks Cay on Facebook follow Hawks Cay on Twitter @HawksCayResort.  You can also check special offers and discounts, including Florida resident discounts on Hawks Cay's website HERE.
Follow 365 Things to Do In Southwest Florida on Facebook for more great ideas, events and activities for the whole family.