It's just a few miles from home (Cape Coral, FL), but once you cross the short strip of asphalt that connects Pine Island with the mainland you feel like you are entering a different world.
Pine Island (in Lee County) is the largest island (17 miles long and 2 miles wide) on the west coast of Florida, just 15-20 minutes from Cape Coral, 30 minutes from Fort Myers and one hour from Southwest Florida International Airport (RSW).
A true diamond in the rough, the island is surrounded by mangroves and has three natural preserves.  It's largely agricultural zoning and the fact that there are no beaches to attract large flocks of snowbirds  or locals has saved it from succumbing to the effects of modern development.  It remains frozen in time, with no tall buildings and no traffic lights.
According to Pine Island's Chamber of Commerce website Calusa Indians inhabited the islands from about 300 A.D. until the Spanish conquered them in the 1700s. Except for the occasional pirate or fisherman, Pine Island was then basically uninhabited until 1873. Those hardy settlers who then arrived lived off the sea and land and carved out the paradise we now enjoy. Commercial fishing and farming of tropical fruits and palm trees became the main industries on the island— as they remain to this day.
Current legislation prohibits high density, high-rise development in the foreseeable future . . . designed to preserve Pine Island's unique, rural island heritage for generations to come.
Matlacha
As soon as you cross the "World's Fishingest Bridge" where anglers cast day and night, you find yourself in Matlacha (pronounced Mat-la-shay).  Dotted with small restaurants, shops, fresh seafood markets and quaint and colorful galleries, this historic fishing village and artist community reminded me a little of the Florida Keys and what they might have looked like 50 year ago.
We started our little island adventure by having an amazing breakfast at "The Perfect Cup", a little restaurant famous for it's excellent coffee and the best eggs Benedict you've ever had.  Being a fan of hollandaise sauce , I have to admit this is was one of the reasons we decided to drift away from our usual weekend plans of going to the beach or doing some other kid friendly activity.  The fresh crab omelets looked enticing but I had to go for the eggs Benedict which I have to admit where amazing.  The incredible coffee selection included African, South American Hawaiian and Middle Eastern.
After breakfast we walked up and down the road which doubles as main street and in most places doesn't even have a sidewalk.  Artists, authors and musicians have made their home in Pine Island, and their artwork can be found in colorful galleries in shops and even on painted telephone poles.
Tropical murals of fish and other island scenes cover the outer walls of some of the shops and galleries and metal sculptures of turtles, lizards and other island animals greet you as you  walk by .  We strolled up and down the main street and visited the many colorful shops and art galleries filled with island souvenirs and whimsical bright colored art from the local artists. Our favorite the famous Lovegrove Gallery & Gardens where you can buy a painted coconut or paint it yourself to send to friends and family.   Who knew you could just put a stamp on a coconut and mail it?  How cool is that?The kids loved window shopping, there where so many fun things to see.
We stopped by Great Licks Ice Cream of Matlacha. Their ice cream is amazing and it's made using all natural flavors and locally grown fruit. My husband liked the mango and I thought the blackberry was to die for while the kids went for the chocolate (with so many delicious flavors they had to pick chocolate again!). I also purchased some home made strawberry mango preserves to send to friends, which I ended up keeping for myself so I will have to go back for more.
We had originally planned to go only to Matlacha but we didn't want to leave so we headed to Bookelia.
Bookelia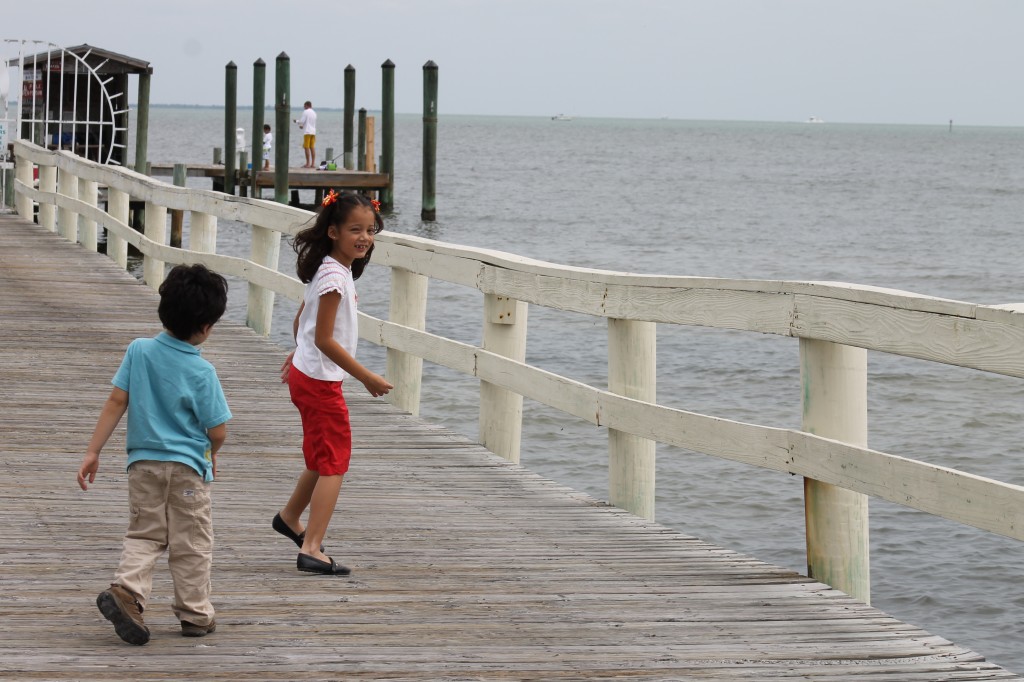 The original plan had been to go only to Matlacha but after seeing all the galleries we didn't want to leave this paradise so we decided to go to Bookelia.  This community filled with cozy cottages, small hotels and  largest houses that looked like winter homes, was sparsely populated.  A couple of fishing piers reached into the water.
In Bookelia you will find tropical fruit farms and palm tree farms, an 18-hole golf course, fishing pier as well as several marinas offering service to the outer islands. This  is a true sport fisherman's paradise with the best tarpon fishing in the world just north of Bokeelia in Boca Grande Pass.  No one in the family fishes, and the fishing piers didn't allow small children so we just looked at pelicans diving for fish over and over again. We came back home feeling like we had traveled far, far away, even as though we has traveled a little back in time and again I felt so lucky to live in Southwest Florida, an area with so much natural beauty a great place to raise kids.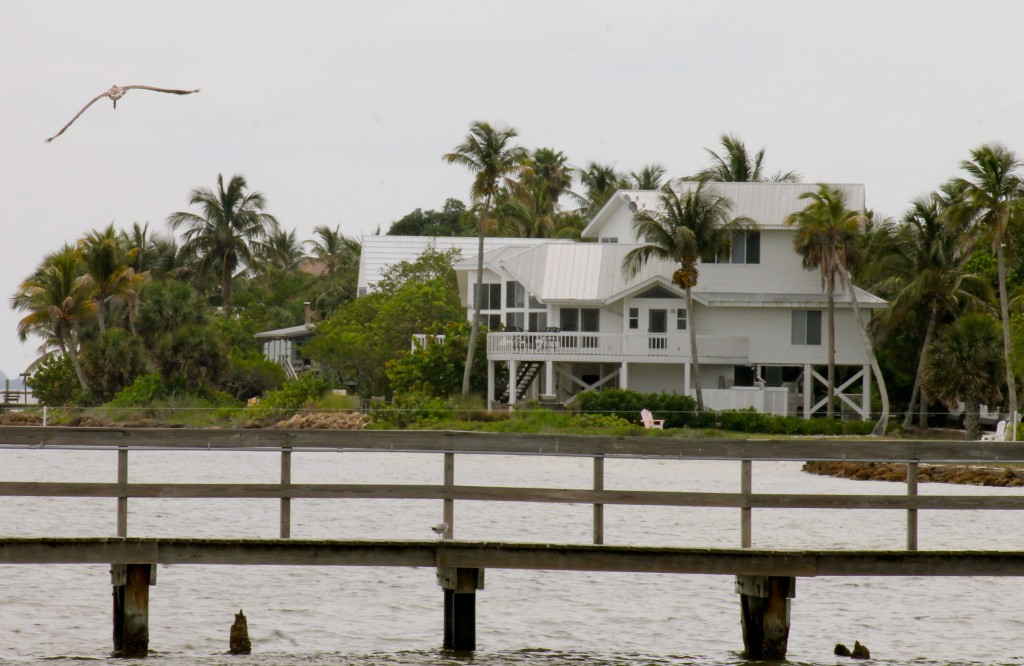 Follow 365 Things to Do In Southwest Florida on Facebook for more great ideas, events and activities for the whole family.