Dolphin watching is definitely one of the favorite things to do for anyone living in or visiting Southwest Florida. There are lots of places where you can watch dolphins from Sanibel to Naples from dolphin cruises to watching these playful animals from the Fort Myers or Naples piers.
But if you're looking to get really close and personal with dolphins and you love excitement a Waverunner dolphin tour in For Myers Beach is the way to go. There's really no experience like this.  This dolphin tour lets your drive your own JetSki and get really close and personal to the dolphins in Estero Bay.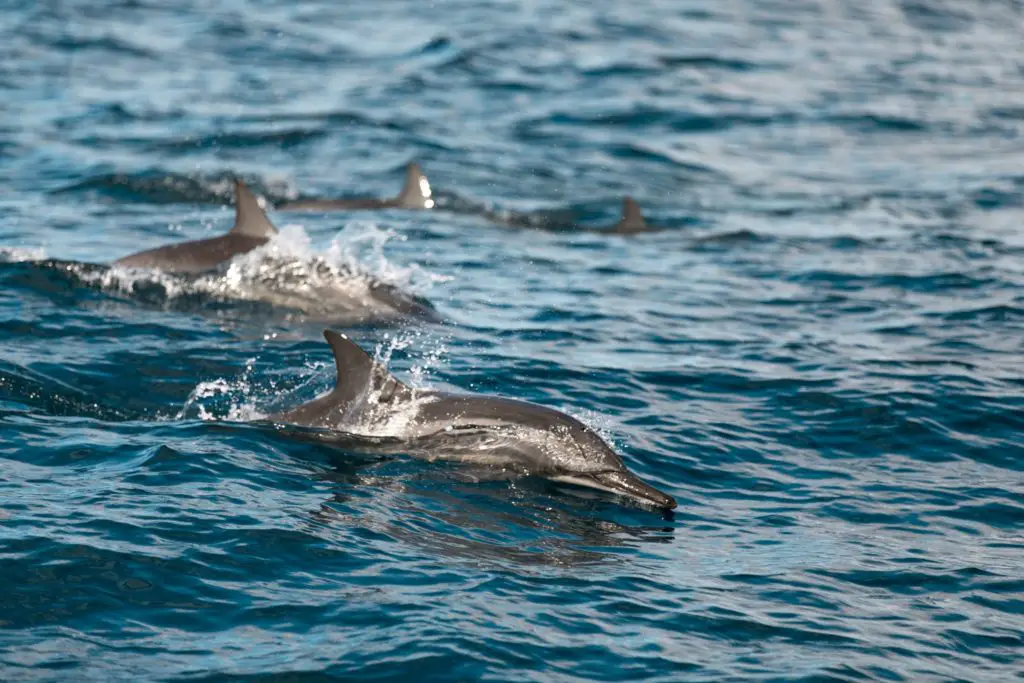 We've lived in Southwest Florida for over 10 years and the Waverunner dolphin tour is one of our favorite experiences so far. This fun and exciting tour is ideal for adults and families with older children. 
We saw so many dolphins and got so close to them. The advantage of the Waverunner is that you are able to get really close to the dolphins. We stopped a few times when we spotted them and once we had stopped they would usually approach us and play around the wave runners. It was really amazing! 
Besides seeing a lot of dolphins and getting really close to them we also got to enjoy the pristine beauty of Estero Bay. We saw a lot of waterbirds and really loved getting to enjoy the beautiful scenery. 
Tips and things to consider before you do a  WaveRunner Dolphin Tour
Waverunner experience is a plus but not necessary. Holiday Water Sports will teach you all you need to know about riding a Waverunner and a very knowledgable tour guide lead the way throughout the entire tour. 
Choose your favorite location. There are 3 locations in Fort Myers Beach so check out the Holiday Water Sports website to find the location closest to you. 
Wear waterproof sunscreen and rashguard if possible. The tour is 90 minutes long and it almost impossible to keep any sort of hat or cap on your head without it flying off if you are speeding along on the Waverunner. 90 minutes under the Florida sun can be a long time so be sure to apply lots of sunblock and if you have a rashguard that is a great idea too.
Do the tour as early in the day as possible and ideally on a day that is not windy. The choppier the ocean is the bumpier the ride. Bumpy rides can get uncomfortable for some so be aware of that as the tour keeps up a fast pace and you need to keep up, choppy ocean or not.  There are group tours with set times but you can also book a private tour and you can pick the time and day, which is so much better. 
Bring a waterproof camera or phone but be sure to have a safe place to put it as you will not be able to hold on to it. I had my phone in a waterproof case hanging from my neck but also had to tuck it into my lifevest to keep it from bouncing around while on the WaveRunner. 
There are some restrictions for driving a WaveRunner. All drivers must be at least 16 years old and have a driver's license. A NASBLA approved Safe Boating Licence is also required if you were born before 1988. Licenses can be acquired if you have one but take about an hour. Be sure to check the Holiday Water Sports website for all of the restrictions and requirements before booking your tour. 
The dolpin waverunner tour is not for everyone. I would definetely not recommend the dolpin waverunner tour for people with any back problems. As I mentions if the water is choppy the ride can be really choppy and although exciting it can be difficult for some. If you have any concerns be sure to check with the Holiday Water Sports staff and they will be sure to advice you on weather this is the right tour for you.