Southwest Florida has a large population of manatees, but they're not always easy to see. That is why I'm sharing the best places to see manatees in Fort Myers as well as great spots for seeing manatees in Southwest Florida from Naples and Pine Island to Cape Coral and Estero.
Southwest Florida is home to a large population of West Indian manatees, and during the winter months, they congregate in the warmer waters of local bays, rivers, and canals. This provides a unique opportunity for visitors to observe these gentle giants in their natural habitat, as they gather in large groups and often surface frequently to breathe.
As a Southwest Florida local, I have embarked along with my kids, on a mission to find the best places to spot and observe manatees in the area. Observing manatees is one of our favorite thing to do with kids in Southwest Florida because it's something we can do outdoors, in contact with nature and that we can all enjoy as a family.
We have come to really love manatees and we even headed out to Crystal River a couple of years ago. Crystal River is the best place to swim with manatees in Florida. But you don't have to travel far to see them. We have lots of great places to see manatees in Fort Myers and the surrounding areas from Sanibel and Pine Island.
Best Places to Spot Manatees in Fort Myers
There is something truly magical about observing these gentle giants in their natural habitat. Whether it's kayaking through the channels of Lovers Key State Park or taking a guided boat tour with Manatee and Eco River Tours, the experience of seeing manatees up close is both exhilarating and humbling. Here are my favorite places for observing manatees in Southwest Florida:
Manatee Park, Fort Myers:
Manatee Park  is a must-visit destination for anyone interested in observing manatees in Fort Myers up close. The park is located on the Orange River in Fort Myers, and its boardwalks provide visitors with fantastic views of the river and its inhabitants. Visitors can watch these majestic creatures from the observation deck or rent kayaks and paddleboards for an even closer look. The park is particularly popular during the winter months when manatees come to the area in search of warmer water. Visitors can learn about the manatees' behavior and habitat at the education center, which also features interactive exhibits. The park is also an excellent spot for bird watching, with over 200 species of birds inhabiting the surrounding wetlands.
Lovers Key State Park, Fort Myers Beach:
Lovers Key State Park presents an excellent opportunity for visitors to catch sight of West Indian manatees, which can be spotted swimming through the channels and along the shore. For a more immersive experience, visitors can rent a kayak, canoe or paddleboard to get a closer look at these majestic creatures. Additionally, manatees can also be seen from the park's beaches and trails, offering a variety of options for observing these gentle giants.
Located between Fort Myers Beach and Bonita Springs, Lovers Key is a popular spot for beachgoers and wildlife enthusiasts alike. Visitors can take a guided kayak tour through the estuaries and mangrove forests to spot manatees, dolphins, and other marine life.
Best Places to See Manatees in Southwest Florida Barrier Islands
Sanibel Island:
In the Sanibel-Captiva area, manatees are often seen near warm water outlets. Landmarks where they are most commonly found include the Sanibel fishing pier near Lighthouse Beach, in the calm waters near Tarpon Bay Explorers headquarters. Visitors can explore the island's many canals by boat or kayak to increase their chances of spotting these gentle giants.
Captiva Island:
The crystal-clear waters surrounding Captiva Island are a favorite spot for manatees, and visitors can often see them from the shoreline or while exploring the island's many waterways by boat or kayak.
Matlacha Pass National Wildlife Refuge, Pine Island:
This 23,000-acre refuge in Pine Island is a sanctuary for manatees, dolphins, and a variety of bird species. Visitors can take a boat tour to see manatees up close and learn about the refuge's conservation efforts.
Best Places to See Manatees in Naples
Naples Bay:
The calm waters of Naples Bay are a popular spot for manatees, especially in the cooler months. Visitors can rent boats or kayaks to explore the bay and its many canals, or take a guided tour to increase their chances of spotting these gentle giants.
Best Places to See Manatees in Cape Coral
Sirenia Vista Park in Cape Coral:
The canals of Cape Coral are a prime location for manatee sightings, especially during the cooler months. Sirenia Vista park is a particularly good place to see manatees as they come to feed on the sea grasses in the shallow waters. Sometimes you can see them from the park on the canals. Visitors can also rent boats or kayaks to explore the canals on their own, or take a guided tour to learn more about the area's wildlife and conservation efforts.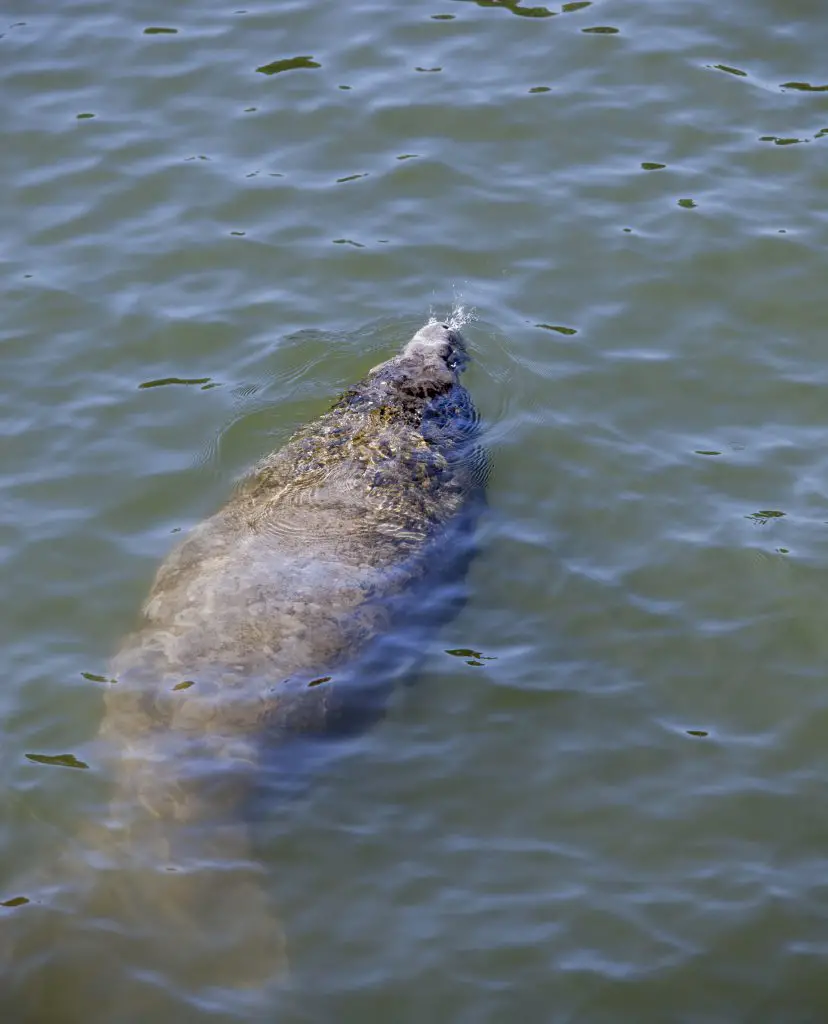 Other Great Ways to See Manatees in Southwest Florida
Southwest Florida is a prime destination for manatee enthusiasts who want to witness these gentle giants up close. With its warm, shallow waters and abundant seagrass beds, the region offers some of the best opportunities to spot manatees in their natural habitat. There are several great ways to see these fascinating creatures, from kayaking and paddleboarding to guided boat tours. Whether you're a seasoned wildlife observer or a first-time visitor, there's no shortage of options to get up close and personal with these lovable sea cows in Southwest Florida.
Take a guided kayak tour
Embark on a guided kayaking excursion to explore Southwest Florida's stunning waterways such as Estero Bay, Orange River, or Lovers Key, accompanied by a certified Florida Master Naturalist. This immersive tour offers visitors the opportunity to gain knowledge about the region's diverse habitat and the environmental challenges that manatees face. While sighting manatees cannot be guaranteed, the expert guides possess advanced tracking skills and will make every effort to locate them. During the tour, visitors may even have the chance to experience an up-close encounter with these magnificent creatures.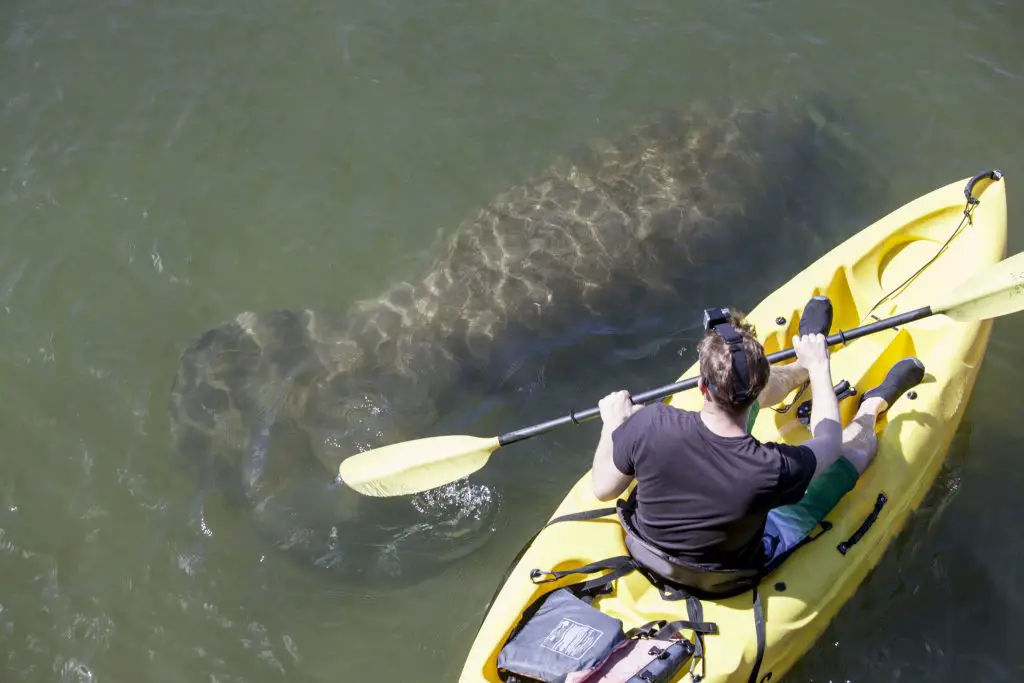 Take a Manatee Eco River Boat Tour
Experience the natural beauty of Southwest Florida's Orange and Caloosahatchee River on a Manatee Eco River Boat Tour with Manatee and Eco River Tours. Taking a boat tour is one of the best ways to see manatees in Fort Myers. During the months of December through March, visitors can embark on a guided tour in search of these gentle giants, although sightings cannot be guaranteed. The captain of the boat is well-versed in the area's wildlife and will take passengers to popular manatee hangout spots, providing a wealth of knowledge and answering any questions they may have. Additionally, the tour offers an educational insight into the process of tagging and tracking manatees, making it a perfect choice for those interested in learning more about these magnificent creatures.
The Best Time of the Year to See Manatees in Southwest Florida
The best time of year to watch manatees in  Fort Myers and in Southwest Florida in general is during the winter months, specifically from December through March. During this time, the water temperatures in the Gulf of Mexico and surrounding rivers and springs drop, and manatees move to warmer waters in search of refuge from the cold.
The cold water temperatures prompt them to seek out warmer waters and congregate in local bays, rivers, and canals. It's an unforgettable experience  to observe these gentle giants in their natural habitat and learn more about their role in the local ecosystem.
Best tips for Observing Manatees in the Wild
Observing manatees in the wild can be an incredible experience, but it's important to approach these gentle giants with care and respect. Here are some tips to help you observe manatees responsibly and safely:
Keep a safe distance. It's important to give manatees plenty of space to swim and feed without disturbance. Experts recommend staying at least 50 feet away from these animals to avoid causing them stress.
Observe manatees quietly. Avoid loud noises and sudden movements that could startle or frighten manatees. Move slowly and quietly, and keep your distance.
Avoid touching or feeding manatees.  Manatees are wild animals and should be observed from a respectful distance. Feeding manatees or touching them can disrupt their natural behaviors and cause them harm.
Respect wildlife protection laws.  Manatees are a protected species under federal law, and it is illegal to harass, harm, or disturb them. Follow all local wildlife protection laws and regulations when observing manatees in the wild.
By following these tips, you can enjoy a safe and responsible manatee-watching experience while helping to protect these amazing animals and their habitats.
Other Great Things to do In Southwest Florida
Beyond manatee watching, Southwest Florida offers an abundance of activities for visitors to enjoy. From sun-soaked beaches and world-class golf courses to cultural attractions and outdoor adventures, this region is an ideal destination for travelers seeking a mix of relaxation and excitement. Whether you're looking for family-friendly fun or a romantic getaway, Southwest Florida has something for everyone. Here are some of other great articles the best things to do Southwest Florida.
Dolphin watching is definitely one of the favorite things to do for anyone living in or visiting Southwest Florida. There are lots of places where you can watch dolphins from Sanibel to Naples from dolphin cruises to watching these playful animals from the Fort Myers or Naples piers. But if you're looking to get really close and personal with dolphins and you love excitement a Waverunner dolphin tour in For Myers Beach is the way to go.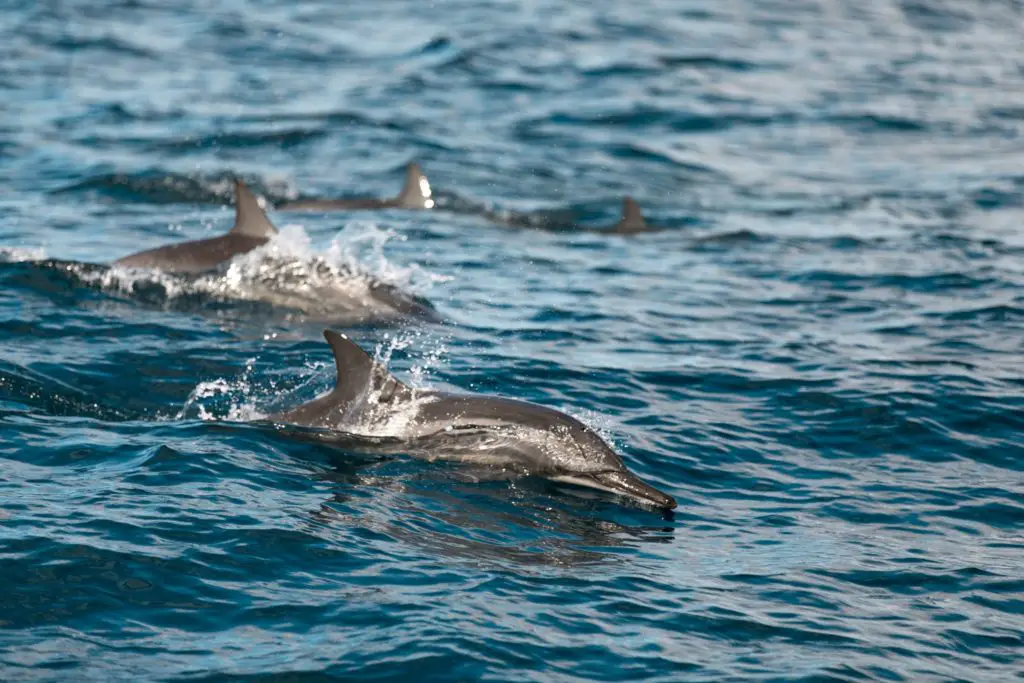 Stand up paddle boarding is not just one of the best full body workouts, it's also a great way to enjoy the water.  Southwest Florida is a fantastic place for paddleboarding with lots of options to enjoy the beautiful beaches and estuaries and view nature from the water.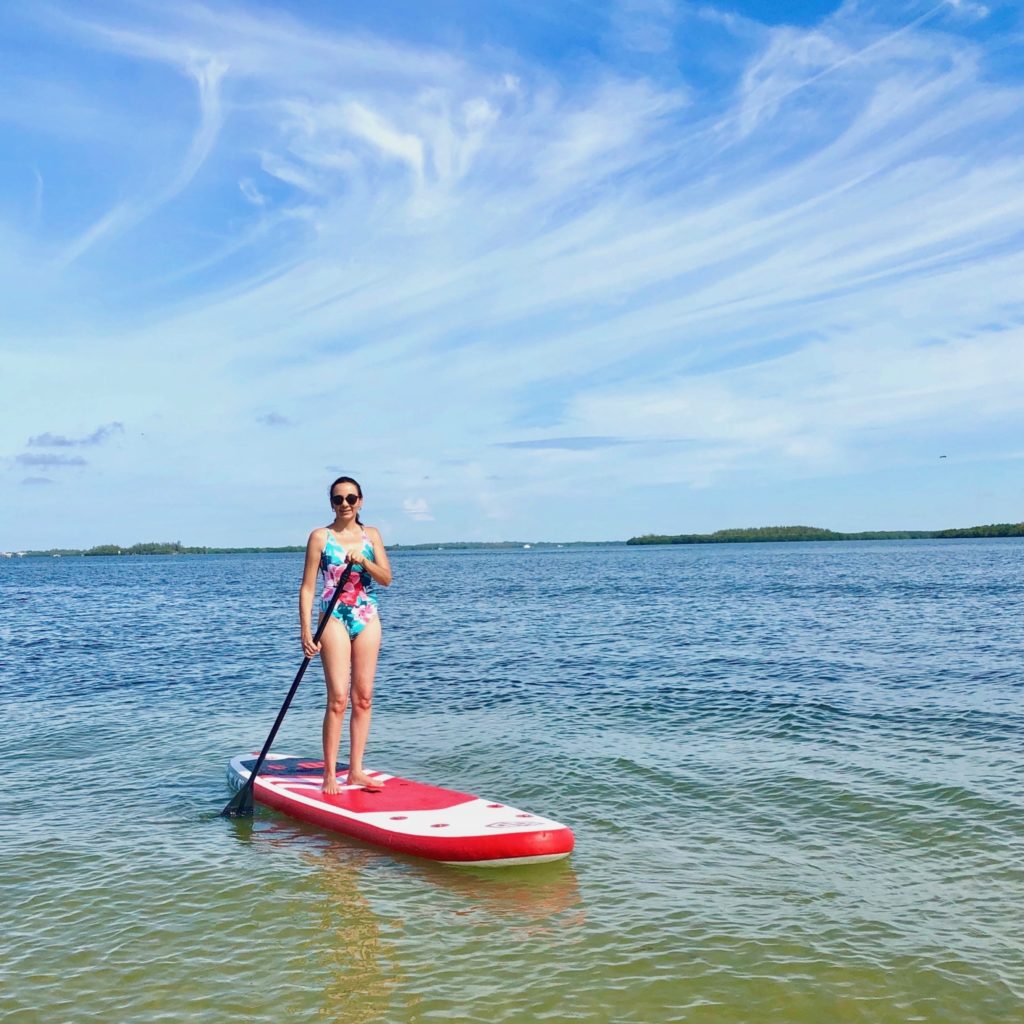 While the beaches are undoubtedly a major attraction, Naples has much more to offer beyond the sand and surf, especially for families with kids. From outdoor adventures to cultural experiences, this vibrant city has a plethora of activities to keep children of all ages entertained and engaged. In this article, we'll explore some of our favorite things to do with kids in Naples that go beyond the beach.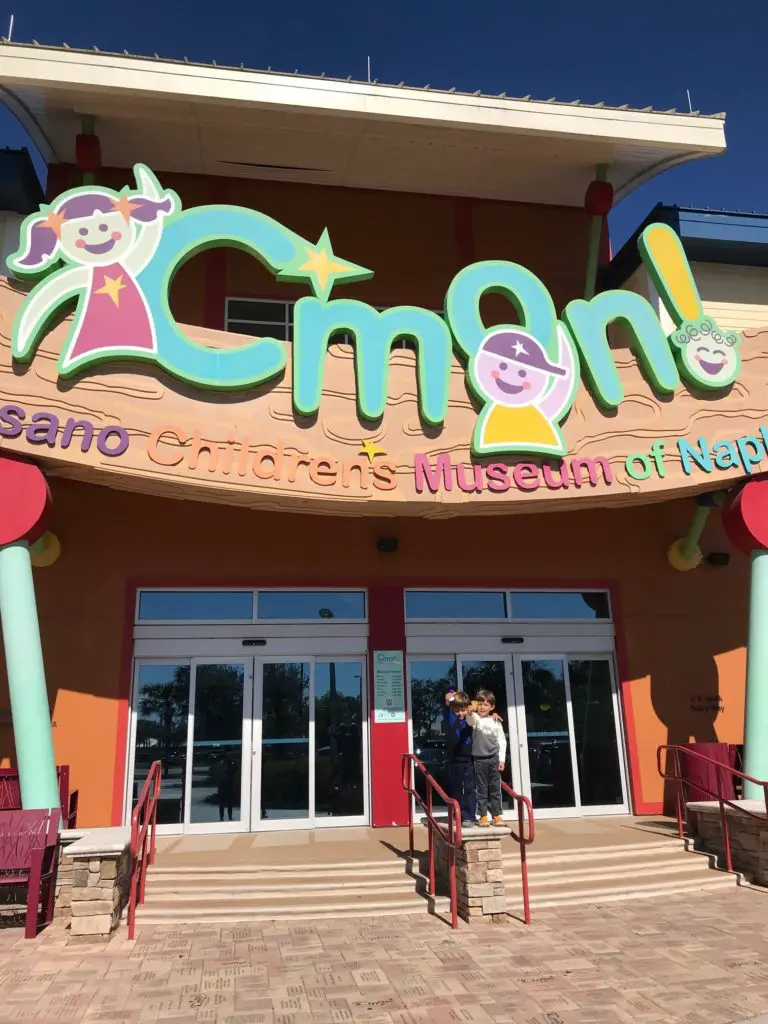 Follow us on Facebook and on Instagram at @365SWFL for more things to do in Southwest Florida and to check out Southwest Florida events and restaurant recommendations!